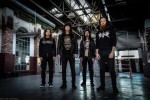 VEKTOR
Alone in an arid, desolate terrain – known to Earth Humans as Arizona, part of the United States Federation – a hominid-type creature named David DiSanto felt a growing shift in his consciousness. He was seeking something, something he could not find… a break from the mediocrity of the stagnant heavy metal landscape. This need began to consume him – searching through endless record bins and compilations, desperately seeking the type of sounds that resonated from within his cranial cavity. All was in vain. The repetition began to eat at his mind.
Faced with the mundane, he chose to reject the ways of feeble earth minds, and realized his mission – to cease his search, and create a new voice within heavy metal. VEKTOR was born.
It was Earth Year 2002, of the Common Era.
The early years were bleak. David was alone. But, this did not deter him. He began writing songs and composed demos. He enlisted the help of a drummer, Willy Redshaw, to provide percussion on these early efforts. The first demo, "Nucleus", was self-released in 2003.
Soon, a new handful of brave earth beings joined him in the pursuit of his mission. They brought their unique skills and individual views. As time wore on, most these brave men were moved to other missions.
During this period of change, two more demos were released: "Demolition" in 2006, and "Hunger for Violence" in 2007.
Through the dust, however, three individuals shone through as true cosmonauts crucial to the next phase of the mission. These men were Erik Nelson, Blake Anderson, and Frank Chin.
Together, they recorded Vektor's first full-length album, "Black Future", which was released in 2009 on Heavy Artillery Records.
Ever forging ahead, Vektor's second full-lenght album, "Outer Isolation", was released in 2011 on Heavy Artillery Records. Following the collapse of Heavy Artillery (the Lizard Master Race has not been ruled out as suspects in this incident…) Earache Records swiftly added Vektor to their list of mercenaries. "Outer Isolation" was then re-released in 2013.
Once the decimation of the western coast of the United States was complete, VEKTOR decided to shift their HQ to a more densely populated area. After all, what better way to spread the disease? This decision found the band in their new home of Philadelphia, Pennsylvania. They are now in striking distance of metropolitan areas such as New York City and Washington DC, as well as more strategic access to the unconquered fronts of Western Europe…
As of this writing, in the eighth month of Earth Year 2015 CE, VEKTOR is verging on the horizon of another release of meteoric proportions. Their third full-length album, "Terminal Redux", is slated for release later this year.
VEKTOR has shared the stage with countless acts within, and across, the metal world. They have gone on several full US headlining tours and enjoyed several segmented North American tours with acts such as Municipal Waste, Napalm Death, EYEHATEGOD, and Exhumed. They shared a Main Stage at HellFest in France (an experience shared with veteran acts such as VOIVOD, Testament, KISS, Twisted Sister, Down, and many others), and, on the other side of the world, VEKTOR played two nights of Japanese Assault Fest in Tokyo alongside the legendary Girlschool.
Come – join us, find your rank in the legions of the VEKTONAUTS. The infestation has only just begun…..