To a music lover, Record Store Day is arguably more crucial to take part in than the conventional holidays we spend with distant relatives. It's a golden opportunity for record stores and indie bands to market, and cities are flooded with free underground events. The music lovers wake up early to flock to their favorite record store and scour through the vinyl racks to find limited editions.
Record Store Day was sparked in 2007 by a Bull Moose employee who wanted people to stand together to celebrate the timeless charm of record stores. It first took place in 2008 as a way to glorify record store culture and the people who make it possible whether it be the staff, customers, or artists. In a time where physical music is rapidly being replaced by streaming services and illegal downloads, there is something irreplaceable about the independently-owned record stores and the thousands of vinyl, cassettes, and band merch that lives within them.
The small group of indie record store workers who started Record Store Day never imagined it would expand to the level it has. It is celebrated in every continent besides Antarctica, and several cities such as New York and Charleston have declared Record Store Day as an official holiday. It's exciting to imagine what the future of Record Store Day will be and how it will continue to represent the importance of music to our culture.
Record Breakers opened up at 8 AM and a baggy-eyed crowd came flocking in to pick up the special edition they were most excited about. Just to name a few, Record Breakers had a Grateful Dead box set, Phish's record "Hoist", Talking Heads, and J Dilla's long lost album. They also provided free hot-dogs and live music. I saw the first four acts: Damien Wilburn who played an acoustic set with honest and quirky lyrics. The second artist Flake Michigan, had a strong voice and was very country-influenced. The third band, Daymaker, is a 3-piece, woman-fronted band. She had a way of going from melodic, feminine vocals to tortured-chick screams in a way that made you want to get closer. The fourth artist I caught was Magicks, a one-piece dream-pop act. From the songs he wrote to his covers of the Cure and Paris Hilton, Magicks added a dreamy, ambient feel to the record store. Throughout the day, there was an eclectic variety of bands to entertain shoppers on the much anticipated Record Store Day.
Daymaker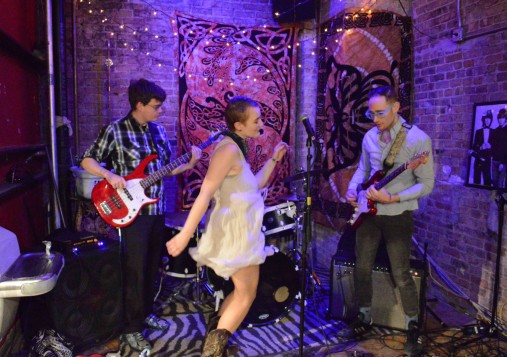 Record Breakers on Record Store Day