The concert featuring Unleash the Archers on Thursday September 2 is CANCELED, due to visa issues. All previously purchased tickets will be refunded at original point of purchase. Online sales will be refunded back to card used for original ticket purchase. Box office sales must be refunded in person at the box office.
HOWEVER! We will be hosting support acts AETHER REALM and SEVEN KINGDOMS for a live concert in our Music Joint on SATURDAY SEPTEMBER 4. This is a $10 cover, ages 21+, separately ticketed event. Tickets are available now at
https://www.ticketweb.com/event/aether-realm-reggies-music-joint-tickets/11331975
We are bummed Thursday's show with Unleash the Archers is canceled, we hope to see you out on Saturday, September 4 to support their fellow acts Aether Realm + Seven Kingdoms.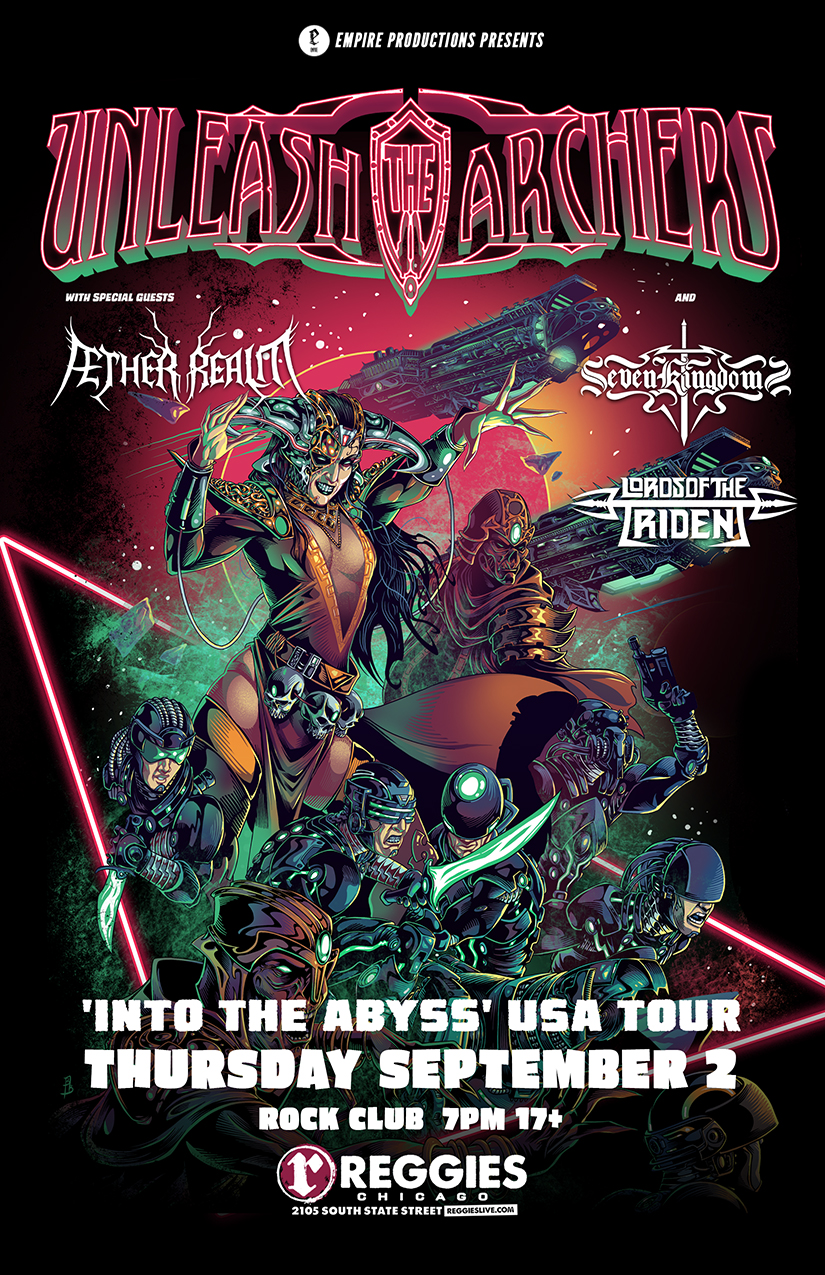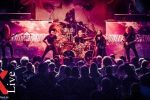 UNLEASH THE ARCHERS
Legend tells of an Immortal, asleep in a mountain keep
Whosoever shall awaken, his endless power reap
Shackled by a curse at birth, over which he's no control
Forced to serve as hand of evil, lost without a soul
The Matriarch, she has him now, firm within her grasp
A ritual to cleanse the bloodlines, immortality at last
Find her sons and bring them to her, on altars they will bleed
Complete the task and as she promised, finally be free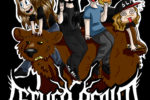 AETHER REALM
Thor's hammer crashed to the earth with a mighty rumble. When the smoke cleared, there were some guys. Some stuff happened that set the mood, something about a quest to rock some towns, and now we play melodeath.
SEVEN KINGDOMS
SEVEN KINGDOMS was formed in Deland, FL in 2007. The band began to play shows, went through all the usual "underground band" ups-and-down; members came and went; numerous local shows; an independently released debut album; etc. Finally, once they had a more solidified lineup, the band signed a management/booking deal with Intromental Worldwide in 2009, which lead to a record deal with Nightmare Records.
Shortly after the release of their Nightmare Records debut "Seven Kingdoms" (their second release, but first featuring female vocalist Sabrina Valentine) SEVEN KINGDOMS played the opening party at the very prestigious ProgPower USA and was then handpicked by the legendary German power metal band, Blind Guardian, to open their 2010 North American tour, which saw the band playing in front of tens of thousands of metal fans throughout USA and Canada. This tour gained the band exponential amounts of exposure, to their direct market. SEVEN KINGDOMS went on to play several one off's and smaller tours in 2011 ending with the "Uniting The Powers Of Metal" tour alongside other uprising power metal acts such as Artizan, Creation's End and Widow. The band capped off 2011 signing endorsement deals with Engl Amplification and Warwick Basses / Amps.
The First show of 2012 came with a slot on the 70,000 Tons Of Metal Preparty, playing to a packed house at the Grand Central venue in Miami. In May of 2012 the band entered MorrisoundStudios to creating a record powerful enough to hang with the best in metal. With legendary producer Jim Morris (Iced Earth, Obituary, JOP, Jag Panzer etc) at the helm and much more experience gained, SEVEN KINGDOMS created their next melodic power thrash opus.
Upon completion of the recording of their new album, SEVEN KINGDOMS signed an extension of their deal with Nightmare Records. The Music Video for 'After The Fall' premiered at ProgPower USA on the big screen, directly before the set of Symphony X to a captive crowd. The video went viral for a short period of time, gaining over 400,000+ views on Youtube. The record, titled "The Fire is Mine", was unleashed on October 9, 2012.
"The Fire is Mine", was the third offering from Florida's SEVEN KINGDOMS, showing a great solidification in their sound and direction; they amped up every aspect from song writing, vocals to production and live performance. This one goes to eleven on all counts – including the number of tracks! The vocals and beautiful crystalline melodies of Sabrina Valentine are uniquely set in a furious power/thrash metal attack, blended with epic choirs and the occasional beer-chanting of the men of SEVEN KINGDOMS.
After the release of 'The Fire Is Mine", SEVEN KINGDOMS hosted their own CD release party at the Deland Rock & Metal Festival, and then played a few supporting shows in Florida with Queensryche, Jon Oliva's Pain and also Firewind. The band was then added to the massive Stratovarius and Amaranthe European tour in 2013, where they were able to break into the European market and play in front of tens of thousands of hungry fans. This tour also included a slot on the prestigious PPM Festival in Belgium where they shared the stage alongside bands like Avantasia, Queensryche, Behemoth, Helloween and Gamma Ray. Upon the return home, SEVEN KINGDOMS set out on a short east coast Canadian and USA Headlining run, their first non-supporting tour. They closed 2013 off with a performance at the Deland Rock & Metal Festival along side Circle II Circle. SEVEN KINGDOMS is headed out for their final European Tour in support of 'The Fire Is Mine' in May/June of 2014. They will be touring along side their friends in the Danish band, Manticora. SEVEN KINGDOMS then took some time for writing, taking select dates with repeat appearances at the DeLand Rock & Metal Festival and openings for Sonata Arctica and Doro in their home state of Florida.
A band started for fun, found that hard work and dedication to their craft has major pay offs… SEVEN KINGDOMS is carving its own path in metal history creating something genuinely unique, yet undeniably Power Metal!
Line-Up:
Sabrina Cruz – Vocals
Camden Cruz – Guitars
Kevin Byrd – Guitars
Aaron Sluss – Bass
Keith Byrd – Drums
Discography:
2007: Brothers Of The Night
2009: Seven Kingdoms
2012: The Fire Is Mine
Label:
Nightmare Records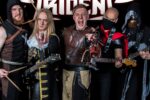 LORDS OF THE TRIDENT
Who are the LORDS OF THE TRIDENT? Hahaha…FOOL! You are not worthy to gaze upon their might!
Their metal's so pure that only diamonds can scratch it, and usually the diamonds are the ones that end up getting hurt in the end. Their amps are so loud, Manowar knocked on their door and asked them to "please turn down". You think you're bad? While you're watching their sweep picking wondering how they bend space-time to fit all the notes in, they'll punch you right in the face without missing a beat. If you like battle, bloodshed, axes, fire, and losing limbs, then mosh your way to the front row and receive your free ticket to Valhalla. If you don't like these things – too bad. They're playing anyway, and they'll make sure to steal your girlfriend in the process.
ALL HAIL THE LORDS!