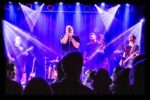 THE WAR INSIDE
Chicago-based rock band in search of stages to melt and crowds to blow away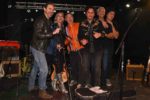 GOOEY
My name is Juan. I love all kinds of music. I like to write songs. John is my friend. He plays a lot of instruments. He hears music in his head. A long time ago, I told John that I was learning to play the guitar. He told me to go away. A few years later, I told John that I was writing songs. He told me that he was busy. I forgot to mention that John is grumpy. Once in a while, I would pick up the guitar when John was around and I would play something that I had written. John would pretend that he wasn't listening. I knew that he was. One day John told me that he liked my songs and that we should record them. These are my songs. This is our band. This is Gooey.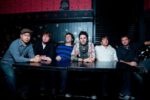 MARKIT 8
Started in the Spring of 2009, Markit 8 is a Chicago rock band built around strong rhythms and an ability to incorporate a number of influences. Markit 8 has the ability to sound like many of your favorite bands, while creating their own musical identity. Having spent 5 years hanging out and playing live shows, the band sounds crisper and tighter than ever…
Centered around the voice of Adam Boor, the band has the ability to reach a large variety of audiences. On any given night, you might here Boor sing blues, rock, rap or folk, flowing seamlessly between varieties. Adam adds a nice rhythmic layer to the music with his acoustic guitar and harmonica riffs.
The band's foundation comes from rhythm guitarist Josh Kotowski and bassist Rick Davis. Josh has been playing piano and guitar for two decades and is the driving force behind many of Markit 8's rhythms and melodies. Rick has the confident ability to stay in the pocket and hold it all together, while adding his own personal touch to each melody. Davis has a great ability to adapt to new styles and genres, giving him the proper goods to be a solid backbone for the band.
Lead guitarist Mike Gedraitis is the glue that keeps the band sounding great. His tone and originality are unmatched. Mikey can solo seamlessly between styles, genres, and melodies and never miss a beat. Gedraitis has been playing for over two decades with much dedication, the man can jam!
With the recent departure of founding members Tony Wei (Keys/Guitar) & Billy Burke (Drums), Markit 8 has a new look and a very fresh new sound. You can see Markit 8 playing as quartet all across the city.
The future looks bright for Markit 8 as we are writing great new tunes and playing with some really talented new musicians! Stay tuned!