Starting January 3, anyone entering the concert will be required to show proof of full vaccination. Final dose of vaccination must be received no less than 14 days prior to the event. We will accept a hard copy of your vaccination card, a printed photocopy or a digital image on your phone, and must match your Government-issued ID. Masks are currently required to be worn by everyone inside the venue in accordance with current City of Chicago guidelines.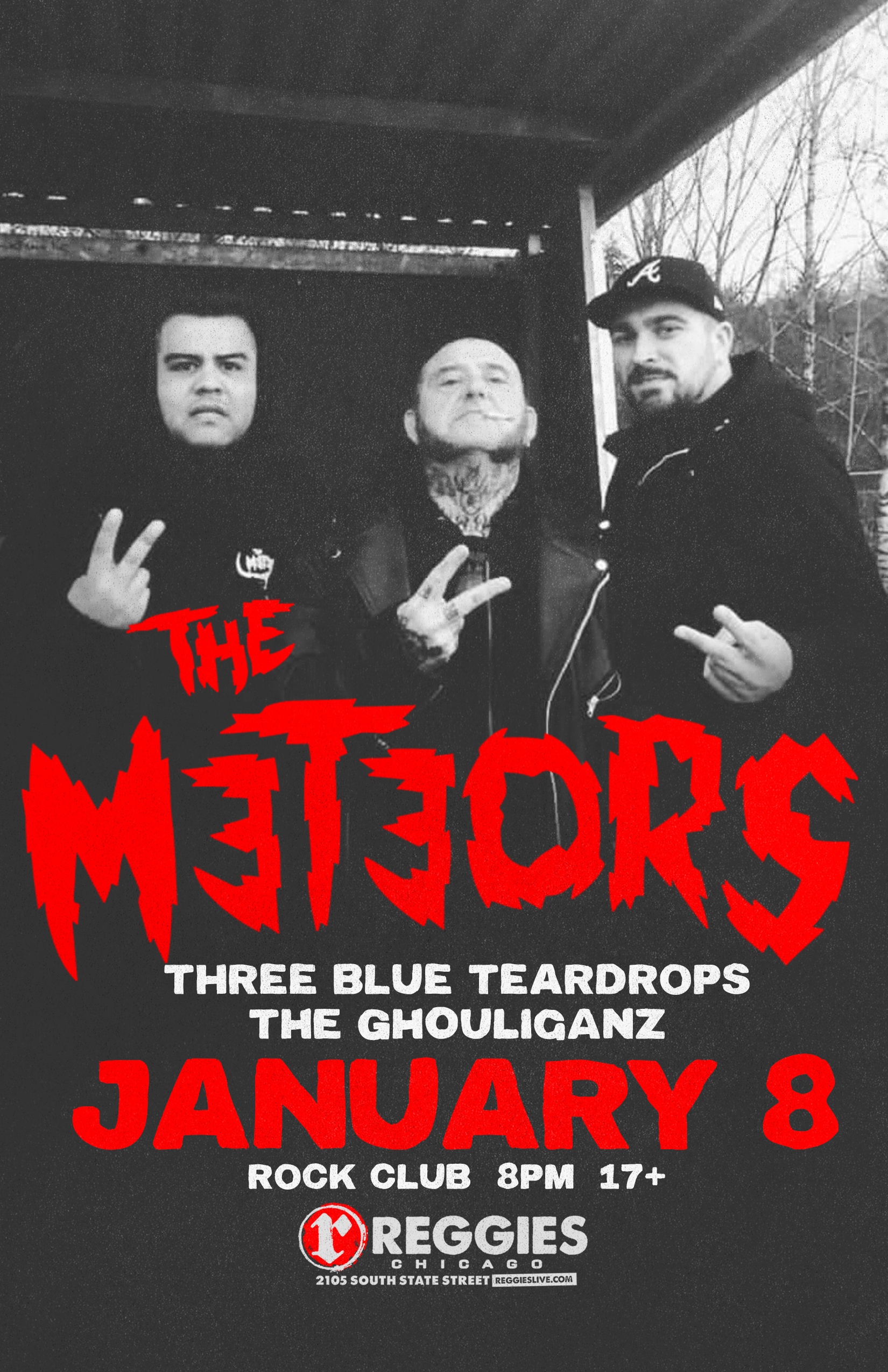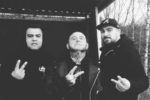 THE METEORS
THE METEORS started thirty years ago as a reaction against the soft rockabilly that was popular at that time, and they have now evolved to become the acknowledged "Kings of Psychobilly".
Their audience has continually expanded, and includes not just psychobillies, but everybody from rockabillies and punks, to bikers, and most alternatives. They are the original creators of Psychobilly Music, and although they have spawned hundreds of imitations, THE METEORS are proud to be the only pure Psychobilly band ever. Their songs are inspired by their personal experiences and interests; Horror, Perversion, and Death in general. They list their hobbies as motorbikes, rock'n'roll, and burying the living; amongst their heroes are Michael Myers, Charles Manson and Mark Chapman the man who shot John Lennon.
They have now made no less than 40 official albums, and countless singles, not to mention dozens of compilations and re-issues. Many were made in their own recording studio, "In Heaven" a fully working pro studio used by 100's of bands including some very famous household names and lead-man PAUL FENECH has also released six successful solo albums. (They have also featured in many films and numerous TV shows) Worldwide sales have increased steadily over the years, and they have toured almost continuously to support these releases.
Their live show is wild and addictive, (they have done it over thousands of times in fact this year passing their four thousand five hundredth) and has been seen in just about every country in the world, including Japan, several tours of America, and every major city in Europe and Scandinavia even spending a sell out week in Israel, Everybody is welcome at THE METEORS show, and the band make a point that THE METEORS Live is a political or religious free zone. People should come to enjoy the music, and to wreck if they are brave enough! It's wild and sweaty, but nobody gets seriously hurt.
They are supported by a flourishing fan base, with thousands of supporters worldwide, who are kept in touch by the website www.kingsofpsychobilly.com which is updated daily with tours, band news and new merchandise, and there are several internet web sites devoted to them. And they receive daily e-mail from fans from the 4 corners of the earth. Although there have been line-up changes over the years, (PAUL FENECH being the only original member) the search for the perfect combination is now over. THE METEORS are a known name, experienced, professional working band, with an established audience. Their most recent release is "Hell Train Rollin'" from 2009.
Whatever you do, don't forget
Only THE METEORS Are Pure Psychobilly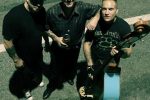 THREE BLUE TEARDROPS
Three Blue Teardrops formed in the fall of 1991. A three piece trio of drums, upright bass and guitar, the band began writing and performing original songs that combined elements of 1970's punk , gut bucket blues, jungle swing, gospel, garage rock, hillbilly jazz and country harmony to the 1950's style raw rockabilly sounds of our Rock-N-Roll forefathers to create their own contemporary sound that was not stuck in the trappings of rockabilly, psychobilly, punk, blues or any single musical sub genre.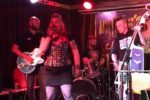 THE GHOULIGANZ
What do you get when you cross punk, rockabilly and four stranded castaways with an affinity for blood, gore, rock-n-roll and monster movies??
Why, The Ghouliganz, of course!!!
Started by the fearless crew members of the ship-wrecked Psycho Minnow, with Ghoul Egon aka the OG (upright bass), and Skipper too (drums), later joined by Professor (guitar), while stuck on an uncharted desert isle somewhere in Chicago, the Ghouliganz searched long and far for a suitable lead singer until the fateful arrival of Scary Ann (screams), who became a permanent part of the band as of 2018.
Having recently played the Underground Lounge and Moe's Tavern to name a few, they're ready for their latest diy release titled 'Island', and are planning to set sail for yet another unforgettable three hour tour near you!
​ – "They're welcome to play here anytime. They trashed my bar! Oh, no, wait,
       they actually cleaned up a little. Good for them."  ~Moe, Owner – Moe's Tavern