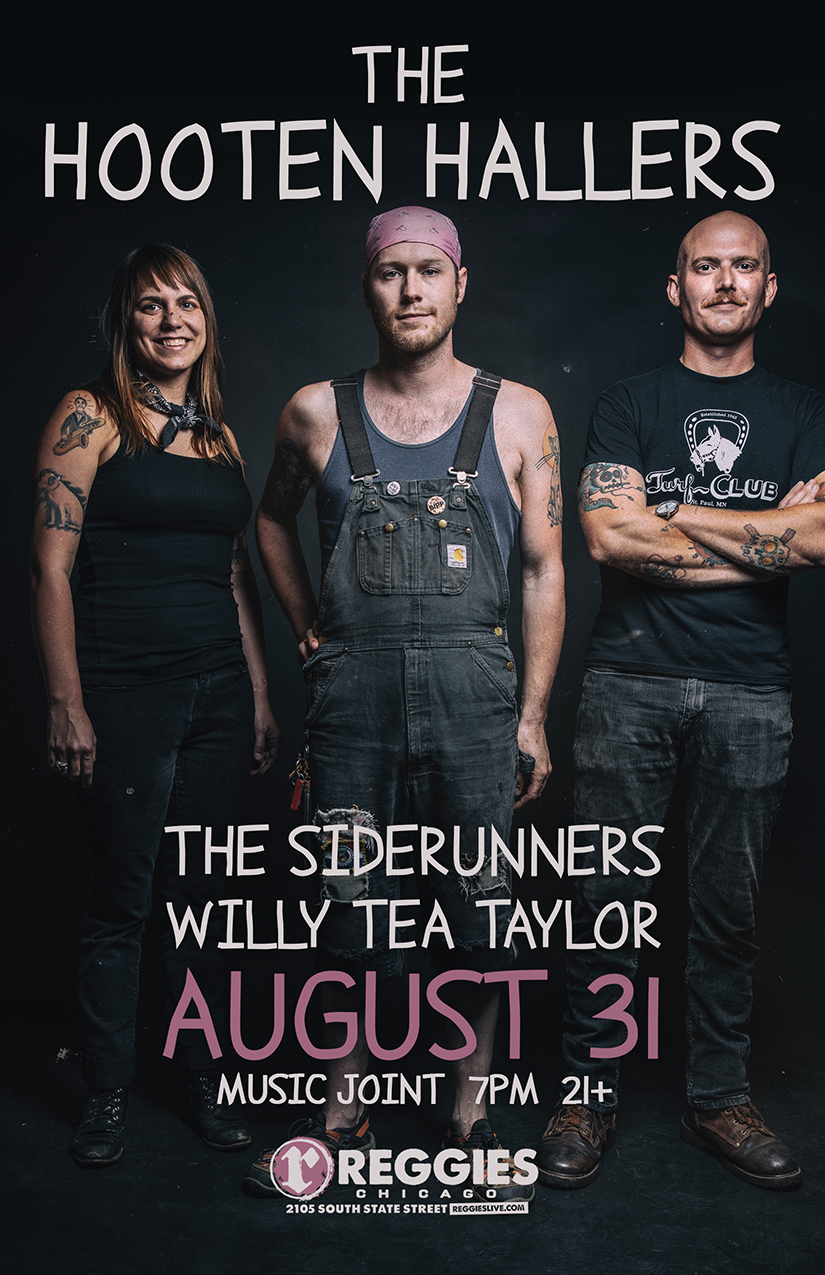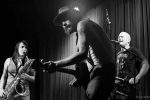 THE HOOTEN HALLERS
Columbia, Missouri trio The Hooten Hallers are a high-energy blues, rock, and soul band known for hard-traveling and wild live shows, with a seemingly endless tour schedule. The myriad of influences in their music range from pre-war blues to rock'n'roll to honky tonk and a hint of jazz, with a thematic penchant for the strange and the unexplained. In the same vein, the Hooten Hallers' music isn't quite Americana and it's not quite punk, but a bit of both, fused together in a drunken tangle. Their live shows take the listener on a seamless ride from unapologetically raucous blues on the lap steel and bass sax, to a sweet three part harmony country ballad, to a romping dance number.

The Hooten Hallers' new self-titled album, out April 21, 2017 on Big Muddy Records, is the culmination of their experiences from 10 years of performing and traveling together. They've injected the album with the stories and characters they've been meeting on the road all this time. Produced by Johnny Walker (Soledad Brothers, All Seeing Eyes) and Kristo Baricevic (Big Muddy Records), the Hooten Hallers' latest effort showcases their evolution as musicians and songwriters. It garnered attention by Noisey – "This album rules"; Rock'N'Reel (UK) – "This is a band that really understands and exudes the history of rock and roll"; Impose Magazine – "another stunner of a music collection"; New Releases Now – "one of the most dynamic live shows around"; AXS – "This album is sheer madness in the best way"; Ground Sounds – "gritty, groovy, and bluesy"; No Depression – "evokes images of Tom Waits tending to a trotline at Lake of the Ozarks", amongst others.
John Randall's demonically-tinged vocals and blues-inspired, manic guitar, and Andy Rehm's screaming falsetto vocals and steady, pounding drum beat keep the band focused on their unique blend of deep blues and country punk. Kellie Everett brings the power with the deep rumble of her baritone and bass saxophones. When The Hooten Hallers come to town, you know it's gonna be a party!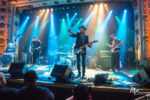 SIDERUNNERS
Veterans of the Chicago punk music scene, these musicians seamlessly cross genres. To see the Siderunners live is a lesson in grit, determination, and above all stamina. With a healthy respect for tradition, this unconventional lineup remembers what was best about music, and the kind of music that has endured over the years.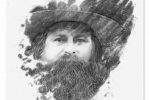 WILLY TEA TAYLOR
Willy Tea Taylor is a father, brother, and son. His remarkable ability to sing about profound subjects in a simple way makes his songs a great place to lose yourself. Much of that comes from his upbringing.
Willy grew up surrounded by rolling hills and horses in the small town of Oakdale, California. Known as the "Cowboy Capital of the World" for breeding so many world champion rodeo cowboys, Oakdale is still Willy's home and the setting for many of his songs.
Despite coming from a long line of cattlemen – his grandfather Walt was one of the most respected of his generation – Willy's first love was baseball. As a catcher, he had a gift for the nuances of calling a game from behind the plate. When a knee injury ended his ability to catch, Willy turned his attention to music.
At the age of 18, a discerning and intimate set by Greg Brown at the Strawberry Music Festival inspired Willy to pursue life as a folk singer. Strawberry would play an integral role in Willy's development as a musician, going from spectator to stagehand, to performer. He made his main stage debut with his band the Good Luck Thrift Store Outfit at the 2009 festival. In 2015, Willy made his solo debut on the main stage. Willy has charmed fans at some of the best festivals in the country.
Willy calls John Hartford, Roscoe Holcomb, Bob Dylan, KISS, Weird Al Yankovic and Willie Nelson his biggest influences, but is always quick to advocate for his favorite contemporary songwriters which include Tom VandenAvond, Nathan Moore, and his Good Luck partner in crime, Chris Doud. He and VandenAvond have travelled the country together on a series of tours they call "Searchin' for Guy Clark's Kitchen" where each evening's show is just a precursor to an endless quest for the kind of serene late night scene depicted in the cult classic documentary Heartworn Highways.
On his new release Knuckleball Prime, Willy received support from greats like Benmont Tench (Tom Petty & the Heartbreakers), Greg Leisz (Bruce Springsteen, Eric Clapton), and Gabe Witcher and Noam Pikelny of the Punch Brothers. Of the album's title, Taylor says "most baseball players peak in their twenties, but knuckleball pitchers tend to blossom in their late thirties and early forties. I'm staring down my knuckleball prime."
Led by producer Michael Witcher, the songs on Knuckleball Prime are arranged and accompanied magnificently by a first rate team of musicians and engineers. If you're a fan of well-written lyrics, alluring melodies, and a voice that ties them together with emotion as deep as the artist's own roots, you'll savor Knuckleball Prime, and just about anything else Willy Tea Taylor has ever done.