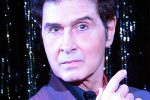 TAV FALCO'S PANTHER BURNS
Tav Falco's Panther Burns are blazing a trail across the U.S.A. next month on their "Contamination" tour. Tav Falco, a longtime resident of Vienna, will be joined by an all-star lineup of Italian music vets including Mario Monterosso (Dale Watson, Red Mount Trio) and Francesco D'Agnolo (former session keyboardist for film composer Ennio Morricone).Like many of the musicians, scholars, carnies and flaneurs that inspired him, Tav Falco is a Southern provocateur grifting his audience with the ol' song and dance act before shuffling out the back door with a wink and a nod. His historico-musico revue, The Unapproachable Panther Burns, originated in 1979 at the nadir of Memphis' postmodern, post-Beale, post-Sun, post-Stax era, when the Mississippi River town had seemingly disappeared from the cultural map and shriveled into an obsolescent landmark. Only groups like the Dixie Flyers, Mud Boy and the Neutrons, Big Star and Panther Burns were intent to keep the fires burning with or without commercial success, and their contribution to experimental pop music, dirty rock 'n roll and the blues revival have been incalculable.
Falco spent his formative years in the country near Whelen Springs, Arkansas, before
landing in Memphis in the late 1960s. Co-founding with decadent poet Randall Lyon, the
art action group TeleVista in which he worked alongside renowned photographer
William Eggleston, Falco spent the next decade filming and photographing the city's
legendary cadre of country blues and rockabilly musicians, artists, and politicians,
expanding his lens to the outer realms of the Mississippi hill country and the Delta. In his travels he documented Sam Phillips, R.L. Burnside, Phineas Newborn, Jr., James Carr, Cordell Jackson and Jessie Mae Hemphill to name but a few. Throughout his career in photography, video, film and music, Falco has merged the grainy portraiture of a gonzo documentarian with the spellbinding mythos of a backwoods raconteur. None is more illustrative of this raison d'etre than the band he founded with fellow musician and Memphian enfant terrible Alex Chilton – The Unapproachable Panther Burns. A reference to an ol' Mississippi tall tale, Panther Burn was a large 19th century plantation outside of Greenville where legend had it a cunning panther stalked and terrorized the local population until it was corralled into a cane break and set aflame. According to witnesses, the screams coming from the panther were an unholy amalgam of animal lust and divine transubstantiation, which continue to curse the plantation.
Playing in the Memphis cotton lofts – wood-lined structures Falco likened to a guitar
sounding box – Panther Burns developed their own tone science and gut-bucket approach to musical forms. The unbridled Panther Burns shows, which often featured guests like Charlie Feathers and Jim Dickinson, became monumental, renegade events. Ever committed to preserving indigenous music and furthering new and daring expression, in 1985 Falco and the Panther Burns founded Counter Fest, an annual festival showcasing the best and the worst of the Memphis arts underground. The band quickly became a favorite in New York City, as well, where No Wave was emerging at the time. Rough Trade Records enthused over the band and released Panther Burns' debut album Behind The Magnolia Curtain in 1981.
After twelve LP and EP releases and countless globetrotting tours, Falco expatriated to
Europe, where he found his most embracing audiences along the Seine and Danube
rivers. The lure of the Mississippi was not far from his mind when he finally chose the
river towns of Paris and Vienna as outposts of mother Memphis. The dramatic flair of his
music has always colluded with cinema, and Falco was destined to step foot in its dream factory.
In addition to his own expressionist-inspired films "Shadetree Mechanic" (1986), "Memphis Beat" (1989), "Born Too Late" (1993), "Masque of Hotel Orient" (with
Kenneth Anger, 1996). Falco appeared in the unredeemed Jerry Lee Lewis biopic Great
Balls Of Fire (1989) and portrayed the leader of a motorcycle gang in the award-winning
rock'n'roll road movie Highway 61 (1993), riding his own vintage Norton motorbike.
Among numerous other movies, he appeared in By the Ways, a documentary film about
color photographer William Eggleston, and enjoyed a retrospective of his own short films in April 2006, at the Cinémathèque Française. In 2014 Lamplighter Films/Frenzi Films co-released first feature film directorial effort of Falco entitled, Urania Descending,
which has premiered in London and Vienna.
Falco's interest in Latin sounds has evolved into an ardor for Argentine tango. Becoming a tango dancer himself, Falco is regularly gliding in baroque ballrooms of Vienna's many palaces and in the milongas of Paris and Buenos Aires. The profound influence of tango is evident in Falco's albums, as woven through Shadow Dancer's songs of unrequited love, betrayal, and lost causes. As The New York Times has declared of unorthodox preservationist Falco, "(He is) a singer, guitarist and researcher of musical arcane who hasn't let his increasingly technical expertise and idiomatic mastery compromise the clarity of his vision."
Falco continues to perform with Panther Burns, appearing at events like the It Came
From Memphis series at The Barbican Centre in London in 2005. Appearances include
2006's ArthurNIGHTS Festival at the historic Palace Theatre in Los Angeles, 2007's
command performance at Fondation Cartier in Paris, 2008's headlining at the Strade Blu Festival in Tredozio, Italy, 2009's Alternatilla Festival in Mallorca, Spain, the Barreiro
Rocks Festival in Lisbon 2010, a London showcase at the 100 CLUB in 2011, the and
multimedia event at the Ogden Museum of Southern Art and Music in New Orleans in
2012, along with the Byron Bay International Blues Festival in Australia in 2013. In 2015
Falco was invited to appear at Silencio – the private club of David Lynch in Paris.
The previous album release, CONJURATIONS: Séance for Deranged Lovers was
recorded in a secret studio in Saint-Germain-des-Prés on Paris' left bank. The record is
composed of all original songs, and consummates Falco's vision with a particularly
poetic, yet turbulent thrust. The lineup includes Giovanna Pizzorno, an original member
of the Memphis all-girl band the Hellcats, and drummer with Panther Burns since the
mid- Eighties, lead guitarists Gregoire Cat and bassist Laurent Lanouziere, A new
FRENZI re-Issue series of the Panther Burns catalog is now underway with LTM records
in the UK in 2015 beginning with the introductory release, HIP FLASK.
Recorded in Rome, the new studio album, COMMAND PERFORMANCE, was released
in March 2015 by UK label TSB Records. The lineup includes guitarist Mario
Monterosso, Giovanna Pizzorno, and keyboardist Raffaele Santoro. Falco's exceptional
voice, described by one journalist, as sounding like Marlene Dietrich under torture,
evokes the phenomenal fires of the Panther Burns. This new album is a real statement of intent from a man and his band who hit new peaks of performance – showcasing not only stunningly varied selections of the obscure and the well known from the blues palette, but an amazingly broad selection of new original material as well.
Equal parts primal, early rock'n'roll, deviant hill country blues & avant-garde art – TAV
FALCO's PANTHER BURNS are ramshackle, raw, unholy & utterly amazing. Panther Burns is not just Music… it is a state of mind. Tav Falco is one of the truly original and romantic forces in American music – the voice that America lost and found. He is tender and virile, flamboyant, witty and dangerous. Falco brings daggers back to the stage. HE is the one who always holds out a hand to the enemy.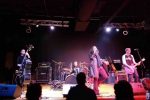 13 ANGELS
13 Angels is a Chicago based band with a classy murderous sound. It takes the dark side of Punk and Psychobilly and adds a murky driving rock beat. This is complimented by eerily melodic vocals and technical thunderous percussion. Add a splash of whiskey and throw in a maraschino cherry. This will be the key to turning your evening into the best black out night you've ever had.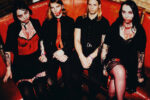 WON'T STAY DEAD
Won't Stay Dead is a horror-themed punk band with grunge and new wave influences from Chicago, blending catchy hooks and harmonies with macabre lyrics.
The band formed in 2017 and has been playing with the current lineup since late 2022.
The band's first full length album, Purgatory, was released in October of '21 on Don't Panic Records & Distro