Sonic Currency will be performing an after bears game set from 3:30-5:30pm set.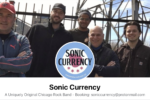 SONIC CURRENCY
Chicago based Sonic Currency is a uniquely original rock band. This five piece outfit creates a wide variety of sounds in their original music as well as classic rock and a few choice contemporary tunes. Original songs include the heavy guitar licks of "Back Door Tax" to the country tainted, "Going Down", then veering off into jazz inspired swing with "Upside Down".
Jason keeps the beat and sings lead vocals that have a soothing yet strong vibe that resonants on their hook laden rock tunes. Sanch writes, sings backup and adds distinctive keyboard sounds that unify the Sonic Currency sound. Dave plays complex and melodic bass lines on his 6-string bass and backup vocals. Chuck adds the essential guitar notes between the chords. Larry put out a solo album before forming Sonic Currency, writes many of the songs, sings and plays guitar on his tunes that speak to those who lost love, lost faith and lost the address to the killer party.
Sonic Currency is a fun band with style and a group that will hang out at the bar after the show!