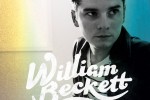 WILLIAM BECKETT
These are promises made every day by artists leaving bands, by artists embarking on solo careers, and by artists abandoning the major label way of life. These were promises made by William Beckett upon the disbanding of The Academy Is… in 2011. These were promises emphasized, emboldened and renewed as he parted ways with Atlantic Records shortly thereafter. These were promises made to his fans, his family, and himself.
He could have been boring. He could have fallen back on TAI's devoted fan-base. He could have taken the easy path. Instead, he chose to climb the mountain. William did it his way, just as he promised, by releasing three EPs (twelve songs total) over seven months in 2012 on his very own YIKE Records label.Chronicling the rise and fall of an epic relationship (a story that, as recent history shows, William is all too familiar with) the trilogy of EPs— Walk the Talk, Winds Will Change, and the forthcoming What Will Be (Out Oct 30th 2012)— jettison the old TAI pop-punk sound. Retaining only Beckett's signature vocals and crafty, tattooable lyrics over electro-pop and jaunty beats. As Alternative Press describes it: "Beckett's new music cuts a swath through contemporary pop trends, retro-rock party anthems and thoughtful balladry. Fortunately, he stamps his persona on all of these idioms with aplomb, resulting in his comfort zone growing a few more acres." (altpress.com, Walk the Talk EP review, April 17th 2012)Sticking to his oaths of freedom, independence, and refusing to compromise has served William well. His first single, "Compromising Me", rocketed to the top of the iTunes charts, cracking the top 20 and leading all independently released tracks. In the following months, the EPs Walk the Talk and Winds Will Change followed the same meteoric rise.Bolstered by the success of his vision, rest was never an option. In between perpetually writing and recording new tracks, William took an unconventional approach to touring. First, he embarked on a solo headlining tour across the U.S. taking with him only his trusty acoustic guitar (an instrument that is now as much a part of him as his voice) and a few digitally- stored studio tracks (his "band in a box"). Following completion of the Spring 2012 tour, he crossed the Pacific as support on a tour of Asia and returned to continue performing almost weekly at different colleges around the U.S. Add to that a packed schedule of private parties as well as dozens of groundbreaking StageIt.com live streaming performances and hardly three days pass when William isn't playing live.William has embraced modern connectivity like the StageIt.com performances, an active blog, a YouTube page and Twitter feed, and combined it with traditional, real-world bonding experiences like countless live, intimate performances and a burgeoning fan community (The William Beckett Society). Constant contact keeps him grounded, approachable and personally invested in his fans. This personal relationship continues to fuel William's promise to never compromise his vision or his dedication. His fans keep him honest and he loves them for that.
William Beckett has already walked the talk. He's revealed the changing winds. Now, with more domestic and international tours planned through 2013, and preliminary work already begun on a full-length album, William Beckett is ready to show us What Will Be.
DANNY STEVENS of THE AUDITION