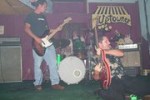 THE PORN AGAIN CHRISTIANS
After years honing their craft in bands such as Swampass, The Porn Again Christians, Soy City Stranglers, Pork Chop Shifter, among others, MALT LIQUOR was forged in 2012 out of pure Rock 'n' Roll! These boys have collectively opened for such monsters as Iggy Pop, Fu Manchu, GWAR, Misfits, Nashville Pussy, Zeke, Supersuckers etc. As rock spewed forth from the three men in the band at all times, it only made sense they combine forces for the ultimate rock 'n' cock 'n' roll machine! They combine the cock rock of their forefathers such as The Stooges, The Dwarves, The Hellacopters, et al, with their own blend of white boy blues thrash. Recordings are in the very near future, but for now ya gotta catch 'em live!
THE SIGHTS
The Sights are a rock and roll band from Detroit, Michigan, formed in 1998. Members include Eddie Baranek (guitar and vocals), Dave Tick Talkin Lawson (bass and vocals), Gordon Smith (guitar, keyboards and vocals) and Skip Denomme (drums). Former members include Mike Trombley, Mark Leahey, Nate Cavalieri, Matt Hatch, Bobby Emmett and Dave Knepp. The band has toured in the United States, Canada, and the UK.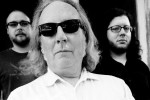 THE DOWN FI
Craig Bell was an original member of the highly influential Cleveland, Ohio punk band Rocket From The Tombs in the Mid 1970's. Heralded as an important protopunk group, they were little known during their brief lifetime, though various members later achieved renown in Pere Ubu and the Dead Boys. Craig, meanwhile, migrated to the East Coast where he founded the bands Saucers, The Plan, & The Bell System in the fertile Connecticut music scene of the late 70's & 80's. Now living in Indianapolis, Craig has enlisted some of your favorite local degenerates, and fine musicians all, from The Dockers, Order of the Black Hand, The Relatives, and Hypnotic Velvet Propellers. We play old-old school style punk from the time before mohawks & niches. Craig describes their style as "enthusiastically skeptical". Have a listen….