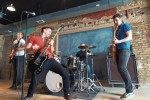 THE FOLD
A wise man once told us "Just stay together, and continue to write the best music you can—great things will happen." What followed were arguably the most trying 7 years in the history of the music industry, but somehow it never felt like that to us. Needless to say, we followed his advice, and he was right…
Throughout our career, we made 2 albums with Tooth & Nail Records—a cool label out of Seattle that spawned a lot of bands we grew up listening to—and another 2 albums since going independent. We also stumbled upon fun outlets to explore our silly brand of humor, like youtube, where we've racked up over 11 million views on our videos.
Once we even got nominated for a Grammy, and saw a single go to number 1 at CHR Radio. Lately, we've forged some relationships that we're really proud of, like an ever-growing friendship with a show called Ninjago, which LEGO produced. The show took on a life of it's own, and now brings our band name in front of a ba-jillion cool kiddos who might never have heard of us before.
In 2012, we wrote a song that was adopted as the WGN official theme song for The Chicago Cubs, our favorite home team, as well as theme songs for NFL's Broncos, Bucaneers and Panthers.
We're so happy and proud that we listened to that man's advice. Thank you, the listener, for giving us something to sing about!