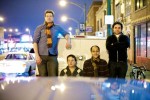 THE MINNEAPOLIS HENRYS
Hello, we're The Minneapolis Henrys (as opposed to those Westchester Henrys). We're on a mission to find our rock n' roll family. Here is our story:
In the cut throat culture of the new world aristocracy, The Minneapolis Henrys were cast out by their well-to-do family for possessing what Robert Murdoch, patriarch of The Horse Shoe Lake Henrys, deemed "a rebellious and incorrigible spirit that may very well sully the Henrys' name for the rest of our days." Not content with the stuffy, button-down lifestyle of their forefathers, the MPLS Henrys set out to find a better way. The four members of The Minneapolis Henrys met during a high society bank heist, a move intended to fund their coup of the Henrys' aristocracy. However, the four found themselves making quite a lovely racket together, and decided to take an approach pioneered by heroes of the underground culture like Bob Dylan, The Replacements or The Pixies; they decided to rock. Rock hard. And so the four of them spent some time together, learning each other's musical strengths and sensibilities, recorded their debut album "The Way of the Albatross", and struck out into the great unknown to spread their brand of genre-skewing rock n' roll. Facing the darkness with pure hearts, The Minneapolis Henrys' goal is to grab your ears, move your feet and win your heart. So please, listen, dance and love.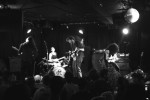 RABBLE RABBLE
"You blew out another speaker!?"