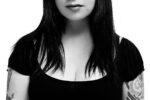 THE BIRTHDAY MASSACRE
After 20 years of outlier success in the music industry, The Birthday Massacre continues to grow their art and their fan base. Millions of streams attest to the legions of fans who are added to the Imaginary Monsters Army daily. From their earliest work, Nothing and Nowhere through their iconic Walking With Strangers,( which has been called the Sgt. Pepper's of Dark Wave), and 10 other mysteriously fascinating albums, the band defies all attempts to label them. But that is because they came at their music from an Art College perspective and not as a band thing. The band was one way to express their art and it remains that way today. There is both a continuity and an exploration to the music they release. Easily recognizable as The Birthday Massacre but stretching the boundaries within their own mindset, each new release is eagerly anticipated by tens of thousands of very loyal fans. Fans as loyal to the band as the band is to them.
Now the band is poised to have their most ambitious year ever with the release of a new album, the unveiling of a website that is another "work of art" and a full slate of live shows. From clubs to festivals The Birthday Massacre will be engaging their old and new fans with a mix of the familiar and the new music that is uniquely them. Now is your chance to see and hear the band that you have heard so much about. 2022 is going to be a good year to see and to be seen. The Birthday Massacre is ready to live up to your expectations and more. That is why they continue to grow in popularity.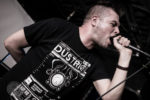 CYANOTIC
Chicago-based Cyanotic, part band, part machine, has been producing a hybrid of heavily metalized electro-industrial jams, cheekily referred to as "angry robot music", since forming in 2002, a redigitized representation of Chicago's lineage of dark counterculture. Equal parts danceable chaos and synthetic precision, Cyanotic has been crossing boundaries and touring heavily with the likes of Front Line Assembly, Skinny Puppy, Dillinger Escape Plan and many more while building a strong core fanbase across the US + Europe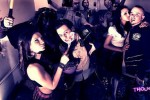 THE PREP SCHOOL TRAGEDY
Armed with enough adrenaline to rival any current touring act, The Prep School Tragedy have quickly broke out as one of Chicago's premier Industrial/Alternative collectives. Led by two front men, Benn "TranQ" Guy and Michael "Ignited" Hodes, the band has become notorious for its controversial live performances that include scantily clad cheerleaders, known only as The Squad. Rebelling against main
stream commodities, the band has mastered the art of independent music with self released music and merchandise, and they continue to be the backbone of their own promotional campaign. This consistent work ethic, coupled with their love for theatrics, has earned The Prep School Tragedy a loyal cult following of fans known properly as "The DelinQuents". Their delivery of filthy and grungy synths combined with erratic drum patterns is only a taste of the big picture. Walking a thin line between exploitation and good old fashioned fun, The Prep School Tragedy has managed to carve out their own unique sound in today's otherwise vanilla landscape.The Prep School Tragedy has made its way across the country, and shared the stage with such notable acts as Blood On The Dance Floor, The Birthday Massacre, Celldweller, , Mushroomhead, My Life With The Thrill Kill Kult, Twiztid and Ventana. Their debut release, It's All A Show, is available now and quickly selling out of its first pressing.