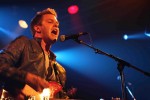 THE AARON WILLIAMS BAND
(Acoustic)
The Aaron Williams Band has completed recording our new album to be released in spring 2014 in Austin during SXSW. We have been ambitiously recording and writing with Grammy producer Johnny K at Groovemaster Studio in our hometown, Chicago. Johnny, having a leading reputation in the music industry works with several reputable bands and musicians. Working with him has been a surreal process creating our new album by utilizing both our experience and passion for making music.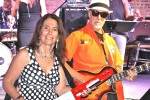 BLUE ROAD
Featuring husband and wife team Gary Gand on guitar and Joan Gand on keys, Blue Road is the ultimate blues backup band for all the fantastic vocalists in the festival.
BLACKJACK SASS
You can compare her music to many different artists, but at the end of the day, Blackjack Sass has a unique sound all her own. From her melodic songs of love that's lost to more punky tunes of giving the bird to the world, Blackjack Sass really defines what it means to be 21 with attitude… even if she's now 23.