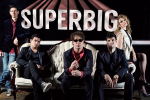 SUPERBIG
Simply put, Superbig stands out. In a city constantly in search of whatever musical movement is next, the polished, pulsating pop/rock sonic landscape of Superbig married with their mission statement is the result of desperate living, failed relationships and obvious bad life choices. It's astonishing how fluid and potent their delivery and studio work remains. The band paints a radio­ready picture that keeps its heart on its sleeve and the hooks coming a mile a minute.
Lead Singer, Guitarist, Jim Fountalas was born and bred in Chicago. As a songwriter and recording artist Jimmy's objective is to connect his songs with the history behind them and share universal experiences of life and love that connect us all. Producer Chris Steinmetz of Stonecutter Records says "Jim Fountalas has a voice that not only draws you in, but captivates you. His ability to please your ears while he engages you in the lyrics is apparent from the first hypnotic listen. He truly brings his multi faceted background to each performance and leaves one wanting more. He is an elusive wordsmith with the skills and ability to connect emotionally powerful lyrics with colorfully commanding melodic phrases." Where Jim is the brainchild of Superbig, Drummer Dan Hill, Bassist Chip Znuff, Guitarist and Background Singer Pat Serorsky, and Violinist Heather Boehm lend their talents to create traditional Pop/Rock through a powerfully lush live sound that is unrivaled in the Chicago scene.
ARLUM
Arlum is a Chicago born rock band influenced by a wide range of music from the 60's – 90's. The early life stages of Arlum can be dated back to the year 2001, when Michael E began writing the album which is known today as "Breathing & Believing". The band formed in late 2003, when Michael E met bassist Randall Anderson and guitarist Jack Beshoar in college. Michael's cousin Dimitri, the final piece to the puzzle, joined shortly thereafter on drums. A raging four piece of melody driven noise came to life. In 2004 Arlum began testing the grounds along Chicago's Southside, accumulating a vast demographic of fans. The band would then later veer off into the direction of the big city. From 2005 to 2008, Arlum circled the entire Chicago land area, performing shows, from the Northshore down to the Southside. In Aug. 2009 and most of 2010, the band began recording their 1st full length, self-funded, self-produced album "Breathing & Believing". The Album was then mixed and mastered by Quentin Poynter at Chicago's Gunpoint Studios. "Breathing & Believing" was officially release on iTunes and Amazon on 1.11.11.
Moving forward Arlum hopes to provide their fans with the warm, familiar sounds of yesteryears, while exciting new audiences with hard hitting riffs of heart wrenching tunes.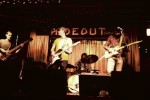 THE SONS
The Sons — premier ambassadors of northern Illinois garage music, true bloods, sometime charlatans, purveyors of fun rock, soul heroes, sonic meddlers, Karate Guys, Cook County court jesters, and what have Ye. Whatever the caption, The Sons will provide…..