RECKLESS ONES
Reckless Ones are rock 'n' roll, plain and simple. Not concerned with the electronic sounds of the modern day but an honest statement in this phony world. A sound from the heart that doesn't apologize for anything. Reckless Ones are a three-man gang, pitting themselves against the world, doing it all alone. You won't see a band this hard-working outside of the movies. Giving it their all to deliver dynamic sets for each unsuspecting crowd, proudly quashing the hippest of hipsters' notions, setting everyone's feet flying, and by the end of the night, everyone's feeling reckless.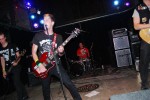 SHOTGUN GAMBLING
Hitting up bars and coughing up tar, Shotgun Gambling is coming at you like that mortgage you gambled away on the roulette table. Shotgun combines the energy from a dirty punk rock basement with the atmosphere of a high class biker car. With a wide range of punk and rockabilly influences, varying from Cock Sparrer, Stray Cats, Zero Boys, and Dropkick Murphys, what may seem like just a punk rock band is more than it appears to be. Shotgun's biggest influence is old school rock and roll, with influences like Del Shannon, Frankie Valli, and Creedence Clearwater Revival. When you go to a Shotgun Gambling show, you'll never know what to expect, but make sure you bring your dancing shoes- and a pack of band-aids.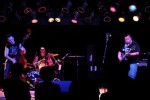 JOHNNY MURDER & THE 25 TO LIFE
Hailing from the Southside of Chicago, Johnny Murder & the 25 to Life have been bangin' out shows all over the country since 2006. With songs soaked in evil oozing reverb and lyrics, they've created an incredibly dynamic sound that keeps people on their feet and blood-thirsty for more! Johnny Murder's unique brand of Psychobilly takes bites out of many different genres and rolls them all into one rockin' and wreckin' good time!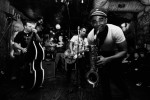 TRACER BULLET
Taking the sounds of soul bathing them in the cleansing waters of the punk rock they grew up playing, Tracer Bullet has created a sound entirely their own.
One part manic energy and one part street soul the boys howl out a message designed to cross genre boundaries. With consistently danceable rhythms and high energy melodies Tracer Bullet paints a musical picture that will bring to mind the fantasy of watching Wilson Pickett sing with The Clash. So rub the sleep out from your eyes and Lookout! Here comes Tracer Bullet!