QUESTION MARK AND THE MYSTERIANS
"96 Tears is the best Rock 'n Roll song ever" – John Lennon. .. ..Question Mark & the Mysterians were the first band to be described as punk rock. .. .. In October 1998, QUESTION MARK & THE MYSTERIANS topped the bill at New York City's Cave Stomp, a garage music blow-out that included such luminaries as the Lyres, the Hentchmen, the Fleshtones, the Nomads and loads more garage bands. The two night affair was a total gas, but the whole deal went into rapid overload with the appearance of the MYSTERIANS on stage at 3:15 in the morning. They started out with the instrumental intro workout to "Do You Feel It", in the midst of which the insanely gorgeous QUESTION MARK came bolting out like the perfect brat spawn of James Brown and Ronnie Spector! Oh, my lord! .. .. They totally rampaged through a set that had people's gourds being blown straight off, they were simply the perfect band, in perfect form, as though they recorded their anthem "96 Tears" last weekend instead of 30+ years ago! They look great, sound insane and simply ARE the wildest and most fabulous human beings ever to walk this planet's surface! Anyway, upon leaving New York, the guys left to crisscross the country, playing everywhere from San Francisco to Los Angeles to Austin, Texas to Chicago and all spots between! Everywhere they went, they slayed the locals! .. .. If you haven't witnessed the majesty of QUESTION MARK & THE MYSTERIANS yet, then get ready to go where you've gotta in order to grab an earload and an eyeful of the unbelievably sensational QUESTION MARK & THE MYSTERIANS!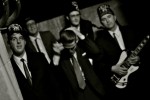 THE BAMA LAMAS
Down & dirty hip-shakin old school rock/ R& B; like a combination of the Cramps and 50s R&B/rock – sort of like Little Richard if he played the guitar, and if someone had rubbed Tabasco on his genitals. From Chicago.