MISSTALLICA
MISSTALLICA is an all girl tribute to Metallica! (With a slightly different line-up we are also QUEEN DIAMOND, an all female tribute to King Diamond!) We started this project in the summer of 2008.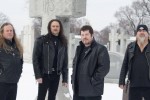 HEAVEN AND HELL
(Chicago)
THE MIDWEST'S PREMIER TRIBUTE TO DIO, BLACK SABBATH and RAINBOW!
CLOSE YOUR EYES AND OPEN YOUR EARS: Imagine a BLACK SABBATH TRIBUTE EXPERIENCE centered around the DIO era….include the Sabbath bible of OZZY songs, and fill it out with the timeless work from Dio's RAINBOW tenure…and of course, the montrous work from the DIO solo career, and you have a sampling of what a night in the clubs is like, when Heaven and Hell (Chicago) comes around. This is the elite of Dio and Sabbath tributes and you'll simply find none better.
Heaven and Hell (Chicago) has been winning respect from clubs, and fans alike for over 6 years now and has become one of the most respected bands in the midwest… not just for the power and attention to detail from which they deliver the material…but for a sense of class and ultimate love for what they do.
Barring any of that, Heaven and Hell (Chicago) brings a unique rock show that, on each level, goes over and above other tributes." They bring a concert aura to any venue, and deliver arena-style performance, regardless of location."
It doesn't stop. From ubiquitous anthems like Children of the Sea, Holy Diver, War Pigs, The Last in Line, Heaven and Hell, Fairies Wear Boots, Man on the Silver Mountain, The Mob Rules, Don't Talk To Strangers, Sabbath Bloody Sabbath and Neon Knights….to deeper die-hard favorites like Stand Up and Shout, Sweet Leaf, Voodoo, Falling Off the Edge of the World, We Rock, Die Young, and Stargazer……
….it all culminates in a great night out for classic rock fans, and Sabbath Mongers alike….
A celebration of Dio-era Sabbath and so much more!!!
It's simply the BEST NIGHT OF ROCK AND ROLL YOU'VE SEEN IN YEARS.
If you've seen or enjoyed Heaven and Hell (Chicago), here is your forum to speak up and share!!!
If you've not seen them, then take a look around and schedule your next night out with HnH! You'll not be disappointed!
Welcome to all…
and LONG LIVE ROCK AND ROLL!