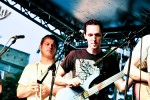 DROP STEADY
Formed in the Fall of 2008 on Chicago's South Side, Drop Steady is a six-piece band hailing from across the United States and the carribean. Inspired by the traditional roots music of Jamaica, Drop Steady blends the sounds of reggae, ska, soca, dub and soul into a sonic cocktail guaranteed to awaken even the heaviest of dancing feet.
Combining a fresh diversity of musical talent, Drop Steady has already graced some of Chicago's biggest stages, as well as being declared the winner of Harry Caray's Battle Of The Bands 2009. Known for their raw on-stage energy and explosive live performances, Drop Steady captivates audiences with their soulful melodies, intricate harmonies, and powerful, driving riddims.
Drop Steady's goal is pure and simple – MAKE 'EM DANCE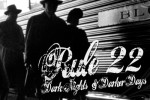 RULE 22
Hailing from the Chicago area, Rule 22 is a ska-punk trio. They've brewed a style that sounds like a riot in a church with more hooks than a fisherman. Their lyrics spit fire about religion, politics, joy and strife.