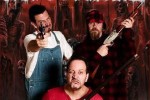 MACABRE
Formed in 1985, Macabre's lineup has remained the same since day one:
vocalist/guitarist Corporate Death (Lance Lencioni),
bassist/vocalist Nefarious (Charles Lescewicz),
and drummer Dennis the Menace (Dennis Ritchie).
That's a rarity for any band, let alone a band in a genre where peers with similar longevity may not feature even one original member.
The trio is a vanguard of the style they've come to describe as "murder metal," a ferocious mix of death metal, punk rock, grind, jazz fusion, thrash and folk melodies among other sounds with lyrics examining real-life stories of serial killers, mass murderers and more.