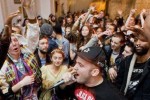 KOSHA DILLZ
Kosha Dillz is a world class improv artist that has recieved major attention for his dedication to success. He has played every kind of gig,ranging from shows with Rza of the Wu Tang Clan and Matisyahu, to the Legendary Yo gabba Gabba childrens show. He is most known for his ability to improv in front of thousands of people an rap in hebrew and spanish combined.
BORGATA MOB: FRESCO X BLACK LUNG
Borgata MOB: Fresco x Black Lung: Based in Rockford, IL but now relocated to Los Angeles California. Fresco Clean, the world known battle rapper, ladies man, and internet sensation along with Hip Hop Trap Star/Bad Boy rapper Black Lung, are now promoting the WHITEBOY WASTED LP produced by entirely by Billboard Super Producer Soleternity that will be released through Borgata Entertainment Group/Hoopla Worldwide on INgrooves|Fontana Distribution early next year. The duo has released a slew of videos over the year, and have finally stepped up it working with major labels and other smaller labels and have plans for many future projects next year.