RON PRINCE AND THE HARD TIMES BAND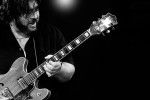 NICK MOSS & THE FLIPTOPS
Nick Moss has followed his most critically and commercially successful album to date ('Privileged') with the release of 'Here I Am,' a record already drawing raves from peers and mentors, like renowned bluesman Jimmy Thackery, who has praised this new set for "pushing the evolution of his music" with tunes that are "genuine and intense."
'Here I Am' is bursting with personal growth and the kind of honesty fans have come to expect from Moss, whose unique approach to traditional Chicago blues on five studio records and two live albums resulted in multiple Blues Music Award nominations from the Blues Foundation. Here I Am is the confident statement from Moss the new path he forged on 'Privileged' was just the beginning. These 10 new originals combine to create the most diverse album of his career as he pushes his sound, songwriting, and lead guitar work further than ever before.
Moss has given guitar lovers plenty to sink their teeth into with extended songs and solos but there's more to Here I Am than just great lead playing. Moss and his band again use a foundation of blues, rock, and roots as starting points but take new and unexpected turns on these 10 originals whether it's the funk-fused jam session of "Caught By Surprise" or the gospel-tinged first single "It'll Turn Around."
"It'll Turn Around" is timely and timeless, offering an uplifting message of hope in tumultuous times that find people struggling to put their life back together after earthquakes and hurricanes against a backdrop of economic turmoil.
Moss is backed on 'Here I Am' by keyboard/organist Travis Reed, Michael Ledbetter (guitar/backing vocals), and Patrick Seals (drums). Bass duties on the record were handled by Nik Skilnik and "Stumpy" Hutchkins but it will be Matthew Wilson on bass and backing vocals on the 'Here I Am tour,' giving Moss his most versatile lineup yet.