MATTHEW JASON & THE COLLECTIVE DEBUT
Matthew Jason is a singer/songwriter from Chicago. After spending some time traveling as a lone-ranger with a guitar, he formed a fellowship of musicians and named it "The Collective Debut". Matthew and the group recorded their self-titled EP in the fall of 2008. Since it's completion they've been writing and traveling together as a community. With a wide variety of musical influences from rock, blues, alternative, folk, and other genres, Matthew Jason & The Collective Debut play music that is dynamic and full of energy. Currently they are in the studio working on their debut full-length album, and playing music where there are ears to hear.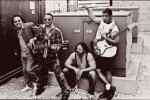 JUZT NUTZ
Juzt Nutz is nothing short of a relentless wave of straight up in your face rock music. This band generates a raw sound of their own, resulting in a non compromised effort to simply give their fans/listeners some real serious and unforgettable rock music.
Our Story
Chicago's Juzt Nutz defy easy categorization. Friends since high school, the core members of the band have fashioned their own brand of hard rock music, paying homage to their influences but clearly paving their own rocking road!
Led by frontman "Stride-Rite", Juzt Nutz is best known for their smoldering live performances. With a driving pace and musical style clearly exceeding the posted limits followed by other ensembles. Rhythmic Poet – William Low ("The Major"), and Bassist – Derrick Holmes ("Professor Holmes"), lay down the bedrock upon which guitarist Bailous ("Face") Armstrong unleashes this assault of electrified alchemy.
Armstrong, who was originally focused on the Violin, strayed from his path to the symphony, and picked up the Electric Guitar. Along with his compatriots (lead vocalist Stride-Rite and drummer Low having pursed brasswinds), he shifted his focus to Rock and Roll.
Capturing audiences with faithful renditions of such monster classics as "Godzilla", Juzt Nutz are primarily known for dynamic original songcraft; be it in the studio or live in concert.
Hear the band which continues to win new fans everywhere – Juzt Nutz!