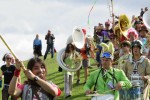 ENVIRONMENTAL ENCROACHMENT
Chicago-based performance art group Environmental Encroachment (EE) uses circus theatrics, live music and costumes to create unique entertainment environments, parades, processions, shows, punk artist marching band encroachments and art happenings.
EE combines a costumed marching band with multi-media stage performance antics, including dancers, hooping, juggling and skits. EE encourages people to interact, be a part, be curious, dance, play.
EE can expand to the size of your event – stage shows, mobile experiences, children's shows, Holiday events, street busking, tactical comic encroachments, festivals, rituals, ceremonies, vaudevillian skits, electric and acoustic music jams, funerals and births.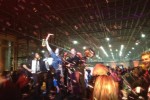 BLACK BEAR COMBO
Black Bear Combo was formed in 2002 by Doug Abram, a noise drummer inspired to take up horns after hearing Romany musicians in Ceske Krumlov. Our travels have taken us across the country, to festivals on both coasts, Mardi Gras parades in New Orleans, the Halloween party at the White House, and every nook and corner of Chicago. We've played rock clubs, basements, festivals, weddings, funerals and parties of every description. Our sound is rooted in different styles from eastern Europe which we play in a way that's all our own. But it would be nothing without sharing it, so we'll see you at the next show!!!