GAND'S PRO BLUES JAM WITH THE BLUE TRUTH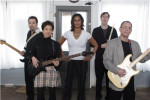 EVERSOJAKE
EversoJake is a class act! Their creative songwriting, inspiring vocals, and outstanding musicianship create a very unique presentation, yet very welcoming allure to a wide demographic. The music is primarily guitar driven rock incorporating classic rock, blues, jazz, and country styles. The lyric and vocal style is something to behold covering a spectrum from modern day rebellious indie-rock to the sexy torch sound from the speakeasy era.
EversoJake? During the band's initial shows, various audience members and fellow musicians suggested that, together, the band members portrayed the essence of a circa-1920's, prohibition-era band that might be found jamming at your local juice joint. Whether it was because of their enjoyment of martinis or their portrayal of a "party-like-it's-illegal" kind of style, the comparisons were drawn. They were very "jake". In 1920's Chicago, "Jake" was a slang term for "cool." Thus evolved: "EversoJake" — the band's homage to the euphoria often experienced when doing what you love (and drinking martinis).
In early 2006, EversoJake finalized its cast of characters and began performing throughout their hometown, Chicago. Performances are dynamic, ranging from bare essential acoustic shows to the incorporation of extra talent to achieve that perfect "recording-studio" produced sound. Energetic guitar playing and seductive singing make the band's visual presence exciting — some would even say mesmerizing.
Songwriting is EversoJake's cornerstone. This is evident on their debut CD "If it Makes a Good Story". "If it Makes a Good Story" is currently being marketed on iTunes, CD Baby, and PayPlay.FM. Additional avenues are being surveyed daily to pursue both sales and publishing/licensing opportunities. The band has already generated fans and sales in Europe via their first tour of Germany.
ESJ fits the bill and hits the mark whether their music is pouring out of a personal stereo system, setting a mood for television / movies, floating through a coffee shop during an acoustic set, or blazing from a festival stage. EversoJake is a versatile band you do not want to miss.