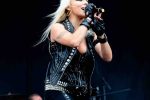 DORO
DORO Pesch is a living legend! And now the entire world knows it, after the "Queen of Rock & Metal" has received her first ever "Legends-Award" at England's renowned "Golden Gods Awards" on July 17th 2013 at O2 Arena, London. On September 13th in Berlin 2013 DORO received the "Legend" Award from Metal Hammer Germany.
A true highlight of a career, already going on for three decades.

DORO can look back at a really unique journey in the music business. DORO, in numbers this means: Gold and platinum awards for about 10 million sold records, over 2.800 live shows on four continents and in 60 different countries of this world, 16 studio records, four DVD's. Countless cover stories on all important Music Magazines and millions of overwhelmed fans around the globe.
At the age of 16 DORO started playing in her first bands, but the story of her success began with her band WARLOCK in 1982 and the first album "Burning The Witches", 1983: the first steps of a world career, that in 1986 got her to perform at the legendary "Monsters of Rock" Festival at British Castle Donnington, as the first ever female musician – and in front of 120.000 frenetic fans.
The same year DORO and WARLOCK took the chance to support JUDAS PRIEST on a world tour. At this point DORO decided to finally quit her job as a graphic designer and to entirely enter the music business, with all her heart, body and soul. On giant world tours in the USA, South America, China, Japan, Australia and Europe DORO conquered a huge fan base. In Spain and Russia she is worshiped like a goddess. Additionally she has done mega-tours with icons such as Ronnie James Dio, the SCORPIONS or MOTÖRHEAD.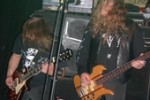 EARTHEN GRAVE
(with Rachel Barton Pine)
Formed in 2008, Earthen Grave is a six-piece Chicago metal band that marries the sounds of metal past and future with a sweaty, pummeling live show. Bassist Ron Holzner served a 15-year sentence with Chicago doom legends Trouble and Rachel Barton Pine brings her frightening classical chops to a relatively new instrument, the Viper. Finding groups like Black Sabbath, Judas Priest, Saint Vitus, Trouble, Pentagram, Candlemass and Slayer to be common influences, the band wrote and played shows around Chicago for the first half of 2009, culminating in the release of the "Dismal Times" EP in June. Featuring three original songs that meld classic, crunchy doom and NWOBHM vibes with a solid dose of thrashy bludgeoning alongside covers of two choice doom classics by Pentagram and Witchfinder General, the EP was hailed by critics as "astounding, " and "pure, head-banging bliss" (MaximumMetal.com).