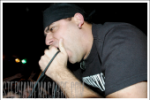 DEATH BY STEREO
Since their inception in 1998, DEATH BY STEREO has been balancing consciousness and chaos with their unique genre-bending amalgam of hardcore, metal and punk. Previously, the band released their last five studio records via Epitaph, Indecision and Serjical Strike Records. DBS, as they are known by many of their loyal followers, have assembled a worldwide fan base built upon a seemingly endless international tour schedule, with enough passport stamps to make many of their contemporaries jealous. They have shared the stage many times over with the likes of Slipknot, AFI, Serj Tankian, Avenged Sevenfold, and Rise Against, just to name a few. They have headlined some of the biggest and best festivals around the world (Germany's "With Full Force", Belgium's "Grozerock", U.S.'s "Warped Tour" and Colombia's "Rock Al Parque"). Having toured in over 20 countries is an accomplishment few bands of any stature can lay claim to.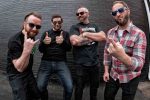 COUNTERPUNCH
Melodic skate punk rock band from Chicago, IL. We like fancy adult drinks, hockey, burritos, horrible puns, equality, pinball, skate videos, beards, video games, bowling & good tunes. Latest full length "Bruises" available now! Check out our pages & follow us on Social Media! Merch available online at BigCartel. Cheers!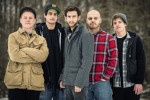 TRANSIT
Taking chances is always easier said than done – musically, there's nothing quite like a risk taken to shine light upon an artist's growth from their former selves. Boston rock outfit Transit has stirred up a unique recipe for success throughout their career, packing one album after the other with fresh ideas. Their newest collection of stripped down tracks in the form of an EP, Futures and Sutures, showcases the group's collective ability to take on new concepts and come through flawlessly. Futures and Sutures features 5 musically revamped fan-favorites taken from Transit's previous two full-length records, plus a bonus instrumental track.
2013 also brought on the anticipated release of the band's full-length, Young New England, which debuted at #4 on Billboard's Heatseeker's Chart and was followed by a U.S. headlining tour. Young New England features a collection of Transit's signature punk-infused tracks with thoughtful lyrics tying together the overall theme of the album, the band's hometown of Boston.
Composed of Joe Boynton (vocals), Tim Landers (guitar/vocals), Torre Cioffi (guitar/vocals), P.J. Jefferson (bass) and Daniel Frazier (drums), Transit formed in 2006, signing with indie label Rise Records in 2011.
Transit's following has grown immensely over the past year alone, many thanks to their ability to move forward musically. This summer, the group took advantage of (hometown) Boston's lively nightlife and took excited fans along for a bar crawl to film a fun music video for the track "Young New England." The true power of the internet came to surface when an online post inviting people to be a part of the video shoot sparked interest from a girl to fly across the country from California into Boston to be a part of it all.
Transit wrapped up 2013 in the strongest way possible, headlining a sold-out NYC show, embarking on a nationwide tour with Taking Back Sunday, and announcing their headlining role in 2014's Acoustic Basement Tour presented by Vans Warped Tour. For a band that treads a notably unique line between indie and alternative, one thing's for certain – expect the unexpected from Transit in 2014.