CHOCOLATE OF CHEESETOWN
Come out for the triumphant return of the ultimate tribute to the greatest rock band of our generation. We take it to the streets of Chicago, specifically the legendary stage of Reggie's Music Joint. Call up your friends in Chicago. Make it a night. Carpool. Whatever you have to do… just don't miss this show!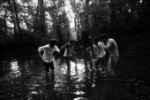 THE DELTA SAINTS
As if the warm familiar melody of rootsy porch music has been plugged in and turned up: The Delta Saints are driving listeners from the comforting recline of their porch swings right to the edge of their seats. It's a fusion of traditional southern soul and funk-inspired power, all layered with furious harmonica lines that simultaneously tie the group together and threaten to unseat it all in one sweep. It's the unsettling sound of strength. A strength fueled by talent and bridled by a passion to relate to another that catches the attention of passers-by with its language-like quality. You can hear within it a conversation between five men able to speak to one another through their instruments. The essence of the Midwest and the bayou work together to make a sound unique but befitting of Nashville. And the energy that sweats from this gritty howling dynamic is a message heralding love and loss and consequence. And though the songs may end, the intensity generated from the act of something old made new again will hauntingly remain.