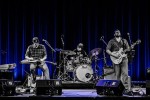 BROWN BAG
Formed in Fall 2010, Brown Bag is a new, organic rock and roll band hailing from the Southside of Chicago, IL. Influences range from folk, jam, punk, jazz and even electonic elements. Currently, Brown Bag consists of Dave Waterman (Vocals/Guitar), Mike Ellis (Keys/Vocals), Jack Pieroth (Bass), Dan Cantone (Guitar/Vocals), and Matt Rezetko (Drums/Percussion).
STICKY LUPREE
slamming & unique soul/funk/groove band from chicago.
THE KEYS
orn and raised in several France locations, Boris Paillard a.k.a The Keys has found a new home on stage, winning audiences across Canada and the United States with raw talent and ample doses of charm. With wide-eyed ambition and a strong singer-songwriter work ethic, in three short years, Paillard has released six full length records and found the time to tour coast to coast thrice with the Greyhound Discovery Pass, playing well over 150 dates everywhere from New Haven to San Diego.
At just 24 years old, Paillard's road tested big collection of folk'n'roll /edgy pop tunes is now backed up in Montreal by a powerful band consisting of a flamboyant three-piece horn section and a solid and groovy rythm section.
With the release of his latest record, Years Are Made Of Seconds (April 2009) Paillard had received some enthusiastic attention from the blogs and media. Paillard's seventh official release, Long Time No Sea (June 2010) can be seen as a musical diary recorded on the road with half strangers, half friends split in two main roamings : a stay in Guadeloupe (the French West Indies) and a tour in the Us and Canada.
The Keys' music is a curious blend of pop, world/traditional music and rock'n roll. But while the musicality is spiced and broad with epic song structures and surprising arrangements, the focus is just as much on the lyrical impact with a cutting sense of humour, a hint of cynicism, and songs that span the gulf between the heartbreak and the heartfelt.
Drawing from the rich well of the troubadour tradition, Paillard's capacity to weave experiences and characters stems from a keen understanding of narrative, phrasing and metaphor, which get tied together by Paillard's energetic guitar work, catchy melodies and his inviting and intoxicating personality. Paillard's presence on stage is electric, wandering seamlessly from song into story, painting diverse personal scenes of home hunting, love making and anger brooding.
Now settled in the fertile musical breeding grounds of Montreal, he's working on exciting new material for a new adventure, this time enjoying the stability and the feel of a nurturing community.