LINDZ RIOT [MARY AND THE BLACK LAMB]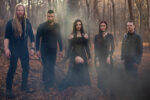 SHIELD OF WINGS
A REBIRTH'S BEGINNING… Shield of Wings is Chicagoland's premier Epic Symphonic Metal band. Infused with melodic, folk, and death metal, it is a fresh twist on the genre, sure to perk your ears. In 2022 the band released their debut full-length album, Unfinished, which has brought into view 10 new bombastic compositions of poetic exploration. Each song from Unfinished explores themes of growth through self-examination, regret, sacrificial death and rebirth.
Shield of Wings is:
Lara Mordian – Vocals
Aliyah Daye – Support & Harsh Vocals, Keys
James Gregor – Guitar & Orchestrations
Patrick Eulitz – Drums
Alex Luke – Bass Guitar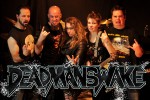 DEADMANSWAKE
DEADMANSWAKE: Female-fronted melodic metal with a whole lot of balls.
"[DEADMANSWAKE is] a band on the verge of big things, being magnetically led by a singer whose voice could ignite the souls of even the most mold ridden corpses in grandma's graveyard hall of fame."
-Brian Kirst of Horror Society, Chicago, IL