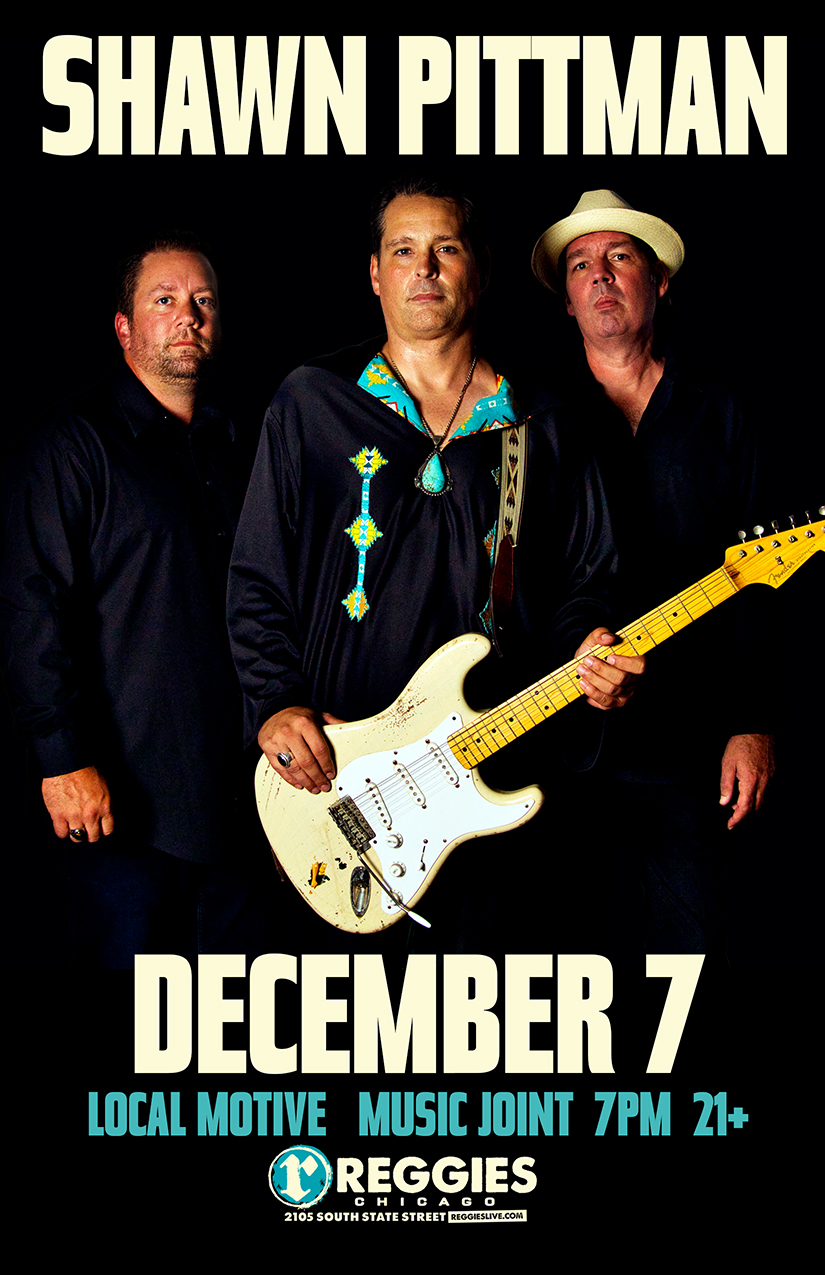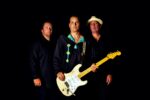 SHAWN PITTMAN
"Dallas-based blues/rock trance-inducer Shawn Pittman puts down some garage-blues dynamite on his new album Hard Road: a no-frills, gravel-crunching set of American guitar music tracked live in the studio. It's a mix of new and old material, a creative decision that allows Pittman to give his fans a chance to hear how his current band handles certain songs from his considerable body of work." -Mike O' Cull
Vocalist, guitarist, and songwriter Shawn Pittman was born in the small town of Talihina and raised in Norman, a city in Cleveland County, Oklahoma. At eight years old, he began taking piano lessons under his mother's encouragement but later began sneaking into his older brother's room to play on his drum kit. Shawn's first concert was watching his grandmother play boogie woogie piano in her living room.
By the age of fourteen, he had switched to guitar and was soon introduced to the mysterious sounds of Lightnin' Hopkins and Muddy Waters by Bracken Hale, a good friend and member of his seventh-grade football team. Their friendship would prove significant as Hale later collaborated with Shawn on writing material for many of his albums.
Pittman moved to Dallas, Texas, when he was seventeen years old to attend the Booker T. Washington High School of the Performing Arts, picking up his music education courtesy of his uncle who would take him to the Schooner's jam in Dallas. This is where he first met and learned from musicians like Brian 'Hashbrown' Calway, Sam Myers, Mike Morgan, Jim Suhler, Tutu Jones, and many others. His first album, "Blues from Dallas," was recorded in 1996 and later picked up and retooled for his national debut in '97 as "Burnin' Up" on the Cannonball Records label. His second album, "Something's Gotta Give," was produced by Jim Gaines and released in '98.
Pittman toured as rhythm guitarist for Susan Tedeschi briefly in '99, just long enough to make a television appearance with her on the Conan O'Brian Show. The following year he relocated to Austin and recorded his third album, "Full Circle," backed by Stevie Ray Vaughan's rhythm section, Double Trouble. In 2004, a more experimental and adventurous album titled "Stay" was released. After a much-needed break from the music business and some serious soul-searching from 2005-2008, Pittman returned to performing and planned to record one album per year. By mid-2010, he already had five independently released recordings under his belt. This flurry of activity eventually led to a new record contract with Delta Groove, and plans were immediately set to record another album.
"Edge Of The World" marked Shawn Pittman's tenth release and contained an inspired program of original material by an accomplished singer, songwriter, and guitarist, recalling all the vintage tones and ambiance of the great blues recordings of the 1950s and '60 s. Even more astonishing is that Shawn plays virtually every instrument on the CD, handling everything from vocals and guitar, to bass, drums, and piano, on top of doubling as the album's producer and engineer. Special guest Jonathan Doyle (Mighty Blue Kings, Jimmy Sutton's Four Charms, White Ghost Shivers) represents the album's only other personnel by contributing tenor and baritone saxophone on four songs. When asked to comment about the inspiration behind his latest and most ambitious project, Pittman stated, "I'm just playing the music I want to hear!"
After seven years in Dallas (1993-1999) and fourteen years in Austin (2000-2013), Pittman moved to Tulsa, Oklahoma, where he resided for five years, finishing a degree in Information Technology. During that time, he also released his 11th album, "Backslidin' Again" (2015).
In January 2018, Pittman recorded his 12th album, "Everybody Wants to Know," with longtime friend and drummer Jay Moeller. In the Spring of 2020, Pittman returned with 'Make It Right," in partnership with Netherlands-based Continental Record Services (CRS).
Opening for B.B. King twice, B.B. shared his secret for longevity with Shawn: "Treat people how you want to be treated — and remember everybody has a boss."
In 2021, as an adaptation to the pandemic, he expanded his repertoire to include solo acoustic music and released 'Stompin' Solo,' his first all-acoustic album on the CRS subsidiary Must Have Music. In May of 2022, Pittman toured Europe with Anson Funderburgh and Mike Morgan as part of the Texas Blues Guitar Summit, totaling fifteen countries where he's performed.
He just released a raw new album, "Hard Road," recorded live in studio in Austin with his new trio — with no overdubs, adding more than 100 original songs to his repertoire. His tight trio, including Jason Crisp on bass and Mike King on drums, is now touring regionally in support of the release.
Jason, born in Colorado, moved to Dallas in 1989 and currently resides in Austin, TX. His innovative, and old school approach to playing bass guitar is distinctive, mimicking the sounds of an upright bass.  He achieves this sound by strumming with his thumb across the strings. Jason's talent also crosses to guitar playing, allowing him to hold down the bottom end of the team's dual guitar showcases.  He has performed with Shawn for over 20 years and can be heard at live shows and recording projects. Jason comes from a musical family:  His father, also a bass player, sharing the stage with Jackie Wilson and the Doc Serverinson Band. Music is in his blood and has led him to perform with other musicians including: Omar and the Howlers; The Moeller Brothers; Joe Jonas; Ronnie Bramhall; Paul Osher; Pinetop Perkins; The Fabulous Thunderbirds; Eric Johnson.
Mike, a native of Dallas, has been playing drums since he was old enough to sit behind the drum kit. He is also a multi-instrumental talent, starting with playing piano at the age of eight. Mike continued his musical career by playing shows with guitar, and shared the stage with Jim Suhler, Texas Slim, and Charles 'Sugar Boy' Myers. His influences include Art Blakey, Buddy Rich, Fred Below and Earl Palmer.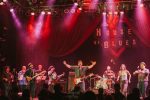 LOCAL MOTIVE
The band Local Motive sounds like Motown got mixed up with Talking Heads. Like Sam Cooke collaborating with Jimi Hendrix.
 Since 2012, bandleader Mike Vinopal and company have set out to make authentic and passionate music that will connect with people on a deep emotional level while also "shaking butts for thousands of years." Bringing the vibes of the Blues Brothers into the present, their music is classic and familiar, yet fiercely original. The Local Motive sound is funk, soul, and rock 'n' roll for all.
 Local Motive released two new singles Memorial Day 2022, "Naive + Supposed To Be," from the forthcoming follow up to the Grams LP, "Slice of Life." A 3-song collection just dropped on 9/30/2022, teasing the next 3 tracks of the full-length, out 12/23/2022. Keeping with tradition, the new album was recorded, mixed, and mastered by Noam Wallenberg (Alan Parsons, Mac Miller) at Rax Trax Recording (Buddy Guy, George Clinton) and co-produced with the band. 
The album of all new songs will also be a commemoration of a decade of Local Motive. And they will most assuredly shake butts for a thousand years more.
 With lyrics like "I need you & you need me too, that's symbiosis," this band strives for connection, community, and celebration, keeping it brassy and sassy too. Perfect music to set the tone for a groovy day. Available everywhere. Support the band directly on Bandcamp & Patreon. Follow @localmotiveband on socials for the latest updates.