"There is no easy way to put this. Devastation on the Nation Tour 2021 is canceled. 
When we rescheduled the tour we thought that in a year everything would be okay again, but it still is not and we have no clear picture of what the future holds. More and more venues are closing down every month. This virus (COVID-19) has ruined everything for so many bands, musicians, andvenues. 
Even if the tour were to still happen in February/March of 2021, how many more venues will be closed down? What will the capacity restrictions be for each show? How will 3 out of 5 bands from a different country survive here IF the borders reopen? It's impossible to know and at this point there is no light at the end of the tunnel. We will not reschedule again until we 100% know that it will be possible for the tour to happen and that the bands from outside of the US are able to come here. 
We thank you all for the support and we will be back one day.
Thank you."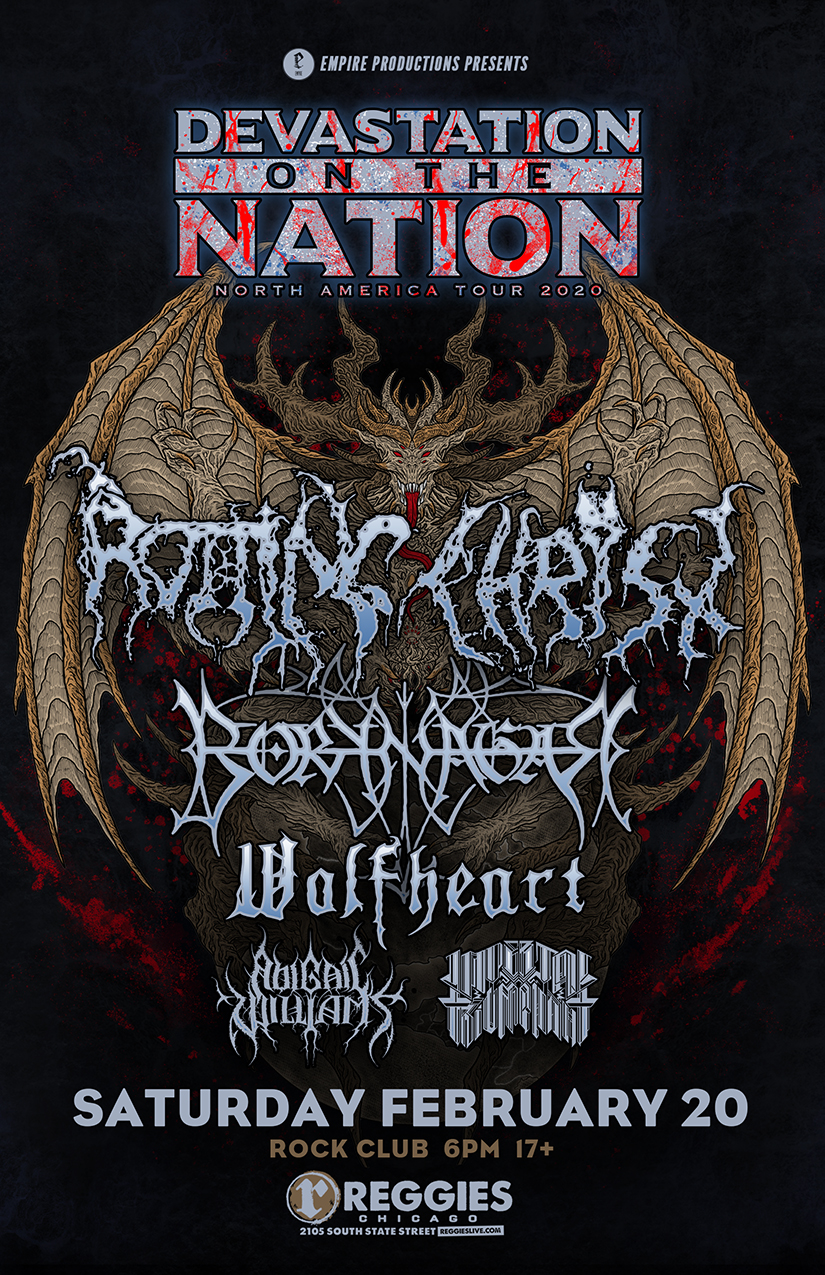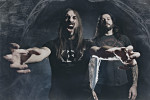 ROTTING CHRIST
Rotting Christ history counts more than 20 years and they decided to celebrate this anniversary with a double DVD + double live CD named NON SERVIAM A 20 YEARS APOCRYPHAL STORY including the more than 2 hours Athenian show plus many detailed and rare extras taken from their apocryphal and glorious journey into the underground Black metal scene. ROTTING CHRIST after 20 years are still alive and more productive and refreshed than ever and with their activity the world can witness the Black Cult is still alive.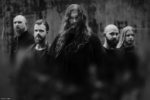 BORKNAGAR
Intrepid black metallers Borknagar, in partnership with Century Media, mark their return with resplendent new album, True North. The Norwegians spent the better part of three years writing and rebuilding the lineup—Borknagar are now Øystein G. Brun (guitars), Simen "I.C.S. Vortex" Hestnæs (bass/vocals), Lars A. Nedland (keyboards/vocals), Bjørn Dugstad Rønnow (drums), and Jostein Thomassen (guitars)—to make their 11th studio album a reality. The reasons are plenty but the main driver for space between and change within Borknagar's repertoire and membership was calibration. Chief songman Brun needed to refocus his labor of love after the assiduous Winter Thrice album cycle. Indeed, that's exactly what he's done on True North. While Winter Thrice was a celebration of time spent and bonds made, True North is the vanguard forward, clear-sighted, refined, and full of power. Truly, there's no holding back now, but with year 25—the band's silver anniversary—approaching next year, small wonder that Brun and Borknagar are still with us. Fortuitous, or part of the plan all along…
"Absolutely not," Øystein G. Brun says [of the plan]. "Back in the day when I starting to play around with the ideas about the band I had no goal aside from making music I love myself. At that time, the whole concept of making money, doing big festivals and traveling around the world was so far off that I wasn't even thinking along those lines. But that said, I have always had the belief that genuinely good music can move mountains."
WOLFHEART
Tuomas Saukkonen shocked everyone in 2012 with his announcement that he will bury all of his metal music projects at the same time to start anew. Before The Daw
n, Black Sun Aeon, Dawn Of Solace and RoutaSielu received their coup de grâce February 23rd, 2013.

After years of pouring his creative juices to projects too numerous to count, since the end of 2012 Saukkonen has focused on just one labour of love, WOLFHEART.

Be the approach melodic and hopeful, acoustic and fragile, harsh black/death metal or atmospheric doom, 'WINTERBORN' has it all, in a mix like of which you haven't heard before.

Saukkonen recorded and released 'WINTERBORN' entirely by himself playing all the instruments and doing all the vocals, with Mika Lammassaari (Eternal Tears Of Sorrow, Mors Subita) as his only guest, playing guitar solos.
'WINTERBORN' proved a roaring critical success scoring high ratings in reviews left and right. To cap off a great year for his project, 'WINTERBORN' was elected the best debut album of 2013 in the annual Record Store Äx customers' poll. WOLFHEART deserved to be a fully operating band.

2014 / 2015 took the band on the road to the national stages with Shade Empire and Finntroll, into the international stages with the first European tour with Swallow The Sun and even to Tokyo with Sonata Arctica etc.

Also big european / scandinavian festivals were targeted and the climax of the 2015 was the 2nd album 'SHADOW WORLD' which continued the path of critical praises and was the first product from the co-operation with Spinefarm records (Universal).

After a rapid ride since the release of the debut and second album the band cleared the calender in the beginning of 2016 and started the pre-production of the 3rd album in the legendary Petrax studios (CoB, HIM, Korpiklaani etc). Only few selected festival shows were booked to break the studio cycle but the focus has been intense and the scheduled release of the 'TYHJYYS' -album was set to the march of 2017.

January 2017 Wolfheart headed back to tour in Europe with Insomnium and Barren Earth for 19 concerts.

March 2017 started with the release 'TYHJYYS' (finnish meaning emptiness) -album via Spinefarm Records. The album received dozens of high-rated reviews across the globe. March 2017 continued with a headliner tour in Spain and with two concerts with Dark Tranquillity in Finland and with autumn tour in Europe with Ensiferum and Skyclad.

Festivals 2017: Dark Troll Festival (GER), Nummirock (FIN), Rock Harz (GER), John Smith (FIN), Gothoom (SVK), Wacken Open Air (GER), Rockstadt Extreme Fest (RO), Brutal Assault (CZ), Bloodstock (UK), Summer Dying Loud (PL), Iberian Warriors (ESP)

At the beginning of 2018 the band performed in the legendary 70000tons of metal cruise (US) and Nordic Metal Cruise (SWE) and soon the band will hit the stage in Ragnarök festival in Germany. The band has also announced so far their headlining tour in Canada and summer festivals; Rock Fest Barcelona (ESP), Gefle Metal Festival (SWE), Party San Open Air (GER) and Summer Breeze festival (GER).

Wolfheart signed to Napalm Records at the beginning of 2018 and is currently making their 4th album.

Wolfheart has four members:

Tuomas Saukkonen – lead vocalist & guitar (Before The Dawn, Black Sun Aeon, Dawn Of Solace, Routasielu)

Mika Lammassaari – guitar (Eternal Tears of Sorrow, Mors Subita)

Lauri Silvonen – bass & backing vocals (Bloodred Hourglass)

Joonas Kauppinen – drums (Disease of the Nation)

Endorsements: Amfisound, Birdz Customz, Yamaha, Dingwall, Impression, Silverblade, Fazer etc…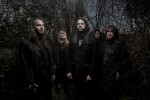 ABIGAIL WILLIAMS
In a glutted underworld of black metal, Abigail Williams may be just the band to spark some life and vibrancy back into the wavering genre. The group's second full album, In The Absence of Light, taps into the spirit of the band's chosen style but injects it with intricate touches of classic and thrash metal. Raw, but clear production and a venomous zeal, it is as infectious as it is lethal.
"The whole record is pretty bleak and depicts a world completely void of light," says frontman Sorceron. "And I think it's just a product of the environment we live in and a reflection of the way I see humanity heading."
In some ways, In The Absence of Light is true to the rules of black metal. The vocals are harsh and shrill, sounding like the product of a lacerated larynx. The guitars buzz, rip and roar alongside articulate, rapid licks and blazing solos. And the drums slam and crash like exploding mortar shells, whether battering with blast beats, double-bass rolls or syncopated snare hits. There is just the right amount of haunting keyboard washes, though the keys (all played by Sorceron) take a definitive back seat to those on Abigail Williams' 2008 disc In The Shadow of a Thousand Suns.
"I like keyboards, but before we started this record we decided to get rid of a lot of them because we wanted to do something different. We don't want to make the same record over and over."
In addition to scrapping the keyboard overload, Sorceron did away with the studied, belabored work ethic he had when he wrote In The Shadows of a Thousand Suns. All of the songs for In the Absence of Light were written and recorded in a frenzied four weeks between February and March 2010. And while none of the songs on the album sound rushed, they're filled with gripping urgency and immediacy.
"We kept everything raw and didn't allow ourselves to embellish anything," Sorceron says. "When it was time to do the lyrics, I wrote them the same day I performed them on the record. We wanted to take a real spontaneous approach and not over think anything. I'm really proud of what we did."
Abigail Williams tracked In the Absence of Light at Conquistador Studios in Cleveland, Ohio. For the first three weeks, the band collaborated in ways unlike previous recordings. Sorceron, guitarist Ian Jekelis and drummer Ken Bedene jammed out ideas working as a collective unit. "I only had two songs written when we came into the studio," reveals Sorceron. "We literally played and recorded for hours. Then we would listen back and pick out what we thought was good and we'd start to put songs together."
In the Absence of Light was produced by Sorceron with additional engineering assistance by Cole Martinez. The album was mixed by the legendary Peter Tagtgren (Hypocrisy, Dimmu Borgir, Immortal). "Peter was amazing," Sorceron says. "I sent him rough mixes of how I wanted things to sound, and he surpassed what I wanted. He left intact the sound sonically and left the rawness in there and he mixed it quickly, too, which I prefer for our sound. I couldn't have asked for the record to come out better."
Formed in 2005, Abigail Williams is named after the eleven year old girl who was one of the first two accusers in the Salem witch trials of 1692. After touring exhaustively, the band released their debut EP Legend in 2006. Touring continued leading the band in 2008 to enter the studio with producer James Murphy (ex-guitarist of Death, Disincarnate and Testament) to track their full-length debut In the Shadows of a Thousand Suns. The album featured a guest performance from Emperor/Zyklon drummer Trym Torson. More touring and a rash of lineup changes followed before Abigail Williams went to Cleveland for In the Absence of Light.
"We did it in Cleveland because it's one of the grimmest cities I've ever been in," Sorceron says. "It's where we wrote the last album as well. There's just something about the city that fits this music. It's a crappy, dark, cold place, especially in the winter. It's already a ghost of a place and the winter really amplifies that. I couldn't wait to get back to New York afterwards, but I think being in Cleveland allowed us to capture the vibe we were after." With the band's strongest lineup to date and best material so far, Abigail Williams are prepared to change people's preconceptions about what black metal is supposed to be. In September the band will tour North America with Immolation, Vader, Lecherous Nocturne and Pathology and, while they plan to be more selective than they've been in the past about bills they'll play, Abigail Williams hope to spread the black magic onstage until their name is synonymous with the progenitors of the genre that once inspired them.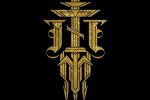 IMPERIAL TRIUMPHANT
Born in the metropolis: Imperial Triumphant embodies the sounds of New York. The chaos, the menagerie, the perils and majesty of the greatest city on earth. We portray this great juxtaposition between high society luxury coexisting with absolute filth and urban decay. Our city is like the corpse of a giant. What was once so bright, grand and spectacular, is now filled with greedy maggots writhing towards their share of 'success'. We don't support it nor are we against. We only play the sounds of the New York City as we hear them.