Celebrating the 40th anniversary of Raven's "Wiped Out" album, played in its entirety for the first time!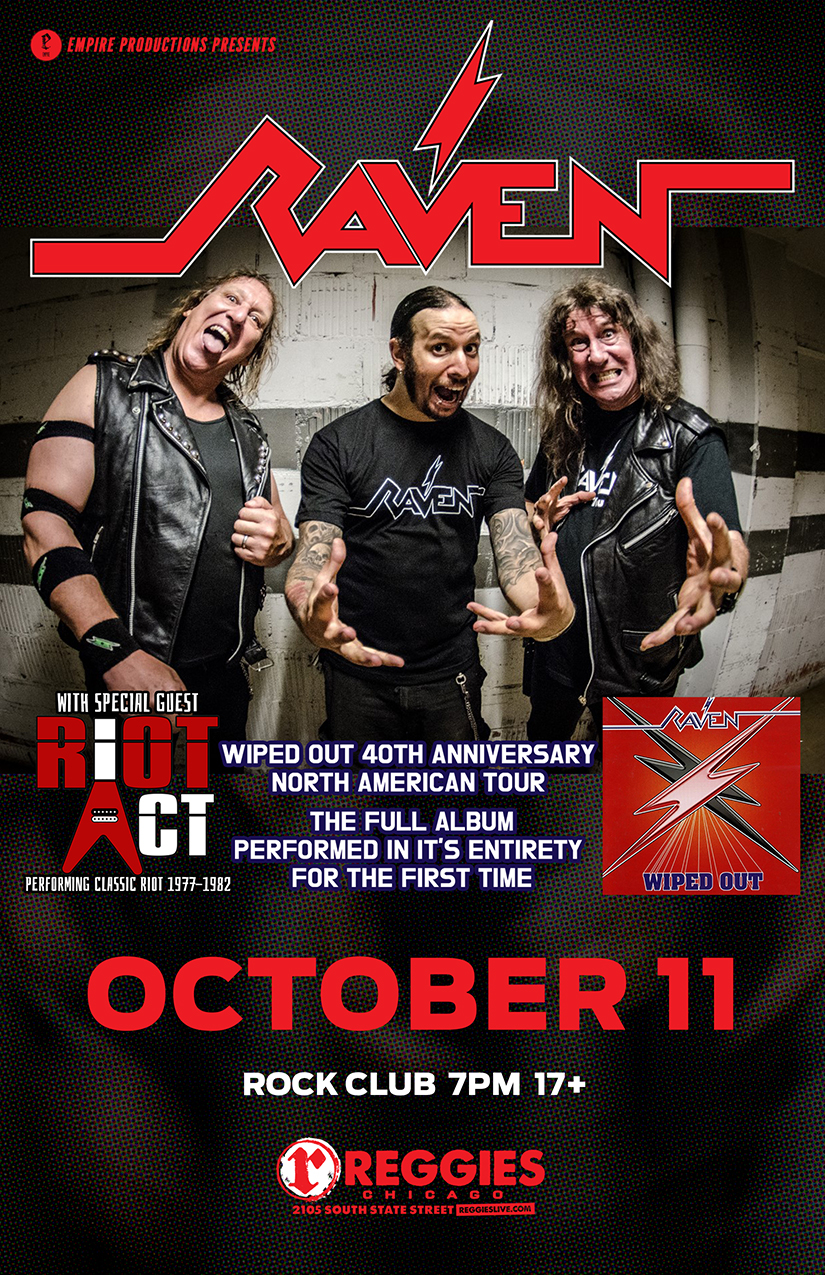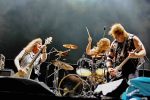 RAVEN
According to the pages of the various metal media, the labels "LEGENDARY," "INNOVATIVE," "TRUE ORIGINALS," as well as "LUNATICS!" have been rightfully pinned upon RAVEN over the years. In a music scene filled by clones nurtured with a cookie-cutter mentality, the unique personality, power and humor of the three band members has always shone through. The crazed vocals & bass playing of John Gallagher, the full frontal guitar assault of brother, Mark Gallagher, and the punishing polyrhythmic pounding of drummer, Joe Hasselvander, all combine to form a sonic battering ram unique in rock!
From the well documented early days as NWOBHM (New Wave of British Heavy Metal) frontrunners, RAVEN's albums ROCK UNTIL YOU DROP, WIPED OUT and ALL FOR ONE virtually invented both the speed metal and power metal genres – during the trailblazing USA tours of the 80's introducing the States to "Athletic rock" as well as giving opening acts like Metallica and Anthrax their first tours, through the doldrums of the late 80's/early 90's when a grunge obsessed media wrote off so many acts – RAVEN has consistently proved to be both survivors par excellence and in a genre of grim imitation – shown that they are "the real thing". Where so many of their contemporaries have either faded creatively or become parodies of themselves, RAVEN have consistently pushed the envelope while retaining their unique sound and attack – both in the studio & in their true element, onstage!
Following a forced layoff through half of the last decade due to Mark Gallagher's long recuperation from a serious accident where Mark's legs were crushed after a wall collapsed on the musician, the band have fought back with a number of European festival appearances, a UK tour in 2008 and a triumphant jaunt to Japan in 2009.
In 2010, the band unleashed the best album they've done in many years, "Walk Through Fire" – quite simply, was the real deal – the right songs, the right sound and the right feel – that was guaranteed to rip yer head off! Raven are here to finally set to reclaim the title that is rightfully theirs – "the wildest band in the f**kin' world!"
JOHN GALLAGHER – LEAD VOCALS / BASS
MARK GALLAGHER – GUITAR / VOCALS
JOE HASSELVANDER – DRUMS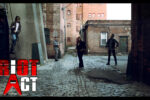 RIOT ACT
Riot Act features former Riot guitarist Rick Ventura, Don Chaffin-vocals, Paul Ranieri-bass, Claudio Galinski-drums. Riot Act is hard driving Rock-n-Roll! The band made their live debut January 2020 at the Heavy Metal Hall of Fame Gala. Their strong performance made a lasting impression on host Eddie Trunk. Catch it on Amazon Prime!
Riot Act tragically lost founding member Lou Kouvaris as the band was about to release an EP and embark on a European tour.After a few dark months and facing a world in quarantine, the band decided to go on, releasing a tribute video of the early Riot classic "Overdrive". The band was ready to rock again!
Currently working on a new album and video, Riot Act ushers in a new era in hard driving rock! Stay tuned!