Chicago's Premier Underground Art Show
– Over 100 emerging artists
– Live body painting
– FREE pancake bar
– Live audio performances
– Live painting
– 21+
– $10/$15 tickets
– 8pm – 2am BOTH NIGHTS
vimeo.com/119205273
pancakesandbooze.com
instagram.com/pancakesandbooze
twitter.com/pancakesbooze
Interested in showing your work? Submit here:
pancakesandbooze.com/submit
Starting on January 3, 2022, in accordance with the Chicago Vaccine Requirement – Anyone entering the concert will be required to show proof of full vaccination. Final dose of vaccination must be received no less than 14 days prior to the event. We will accept a hard copy of your vaccination card, a printed photocopy or a digital image on your phone, and must match your Government-issued ID. Masks are currently required to be worn by everyone inside the venue in accordance with current City of Chicago guidelines.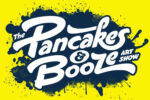 PANCAKES AND BOOZE ART SHOW
The LA based event originated in 2009 and has since popped up more than 500 times in 35+ cities around Europe & North America. Batter sizzles, beer foams, and canvas lines the walls from ceiling to floor as hundreds, sometimes thousands, of revelers indulge in endless pancakes. This is no stuffy wine-and-cheese, pretentious, someone-gag-me art event. It's an innovative reimagining of the art show concept. A welcoming vibe for up-and-coming artists to sell and strut their stuff in a free verse, anything goes environment.