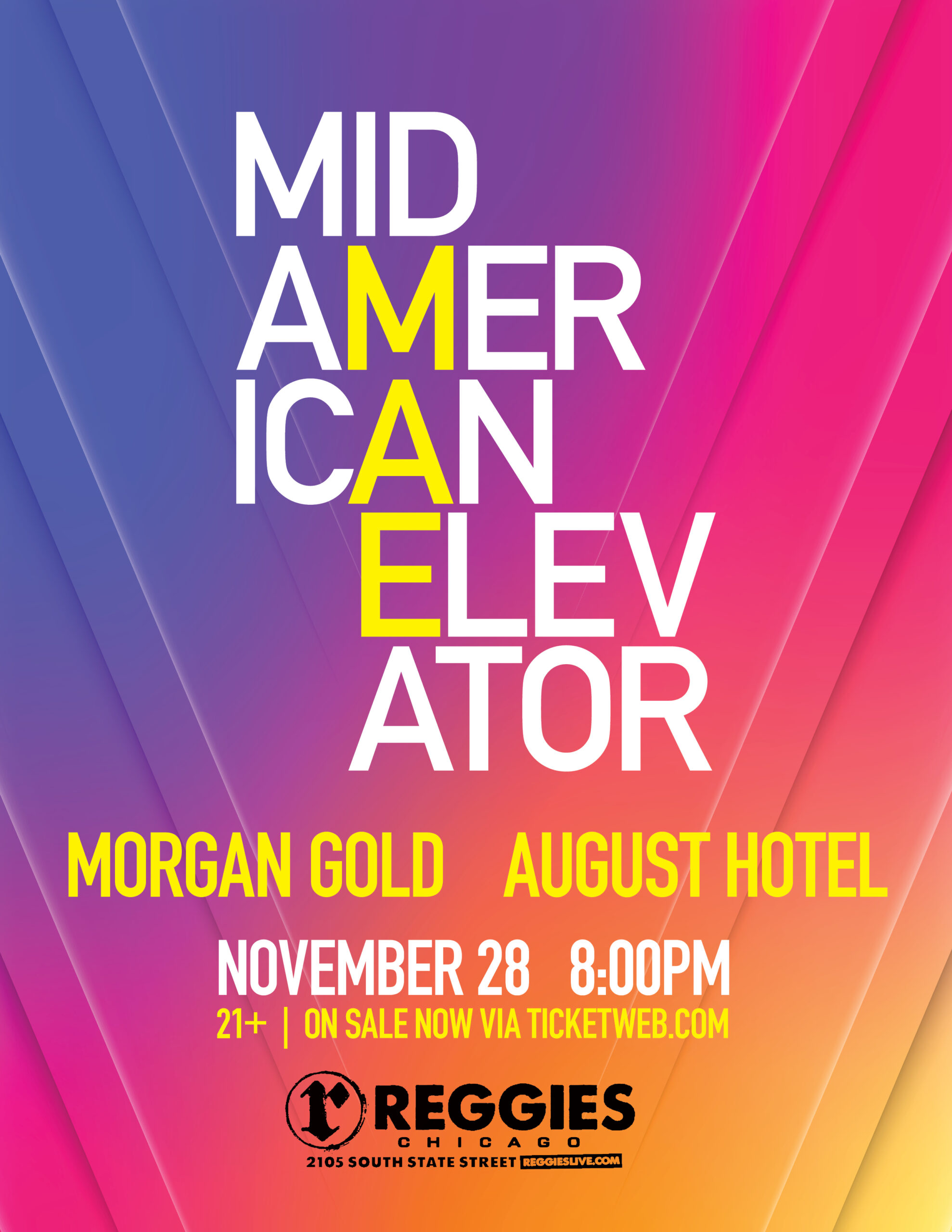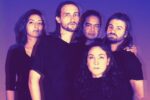 MIDAMERICAN ELEVATOR
Chicago indie-rock band MidAmerican Elevator lifts dreamy vocal harmonies over a busy rhythm section, with guitars traveling between sparkly counterpoint and regenerative drive. On one level they give you Alvvays-like dream-pop vibes. On another, a bit of the Cranberries. On another, the Strokes (if Julian Casablancas was actually two women in a trench coat).
Vocalist-guitarists Paxton Long and Beni Yuzawa met in an elevator in 2013. They found lead guitarist Greg Taylor in a shitty bar in River North, picked up bassist Mike Vendiola through a friend-of-a-friend, and went all the way to Reddit to recruit drummer Dean Sinclair. Together, MAE is playing at stops up and down Chicago, and recorded their debut album—scheduled for release in 2022—at RCM Studios in Logan Square.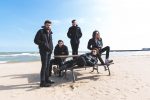 AUGUST HOTEL
"August Hotel's music features a depth typically unheard in the soundscape of peers."
— Chicago Tribune
Combining fresh, modern sensibilities with the influence of '80s yesteryear, August Hotel has established itself as one of Chicago's most energetic and insightful bands. Comprised of Eva Padilla (lead vocals), Landon Hegedus (keyboards/saxophone), Ryan Lammers (guitar), Dean Sinclair (drums), and Cale Singleton (bass), August Hotel has been playing together since 2017, after Padilla sent a grainy smartphone video of herself singing to the rest of the band. Within a month, the band was in the studio working on their first EP, 2017's Charms.
After an extensive schedule of live shows, the band took a step back to record new music, embracing their evolution and new experiences. Released in 2020, August Hotel's  second EP, Stations, presents four new songs that expand on the group's ability to weave together each member's specific musical background and influences. Stations examines different forms of loss—the end of a relationship, the sacrifice of a trans activist, the loss of personal control when struggling with mental health, and losing a guitar on the train—aiming to convey universal experiences via unique stories.
Lead single "Disaster & Delight" explores reconciliation after the end of a relationship through an infectious melody and cheeky–yet still sincere–lyrics. Stations' accompanying titles strike various tones and moods: urgency, elevation, and melancholy. Produced by Drew Polovick of Friday Pilots Club, this sophomore EP exemplifies the band's deep passion for the story telling qualities of their carefully crafted music. Constantly progressing as individuals and as a band to produce captivating and complex tunes, August Hotel is poised for a breakthrough.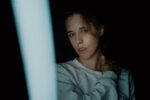 MORGAN GOLD
Morgan Gold is a Chicago-based singer, songwriter, musician, and performer. Morgan developed a skill for songwriting at the age of ten, and began exploring her interests in vocal performance and acting. Her endeavors lead her down a variety of paths including musical theatre and comedy. Although she found joy and promising opportunities in those fields, her love for music and songwriting would always find its way back to her. In early 2018, Morgan took advantage of her versatile performance background, and began her music career that continues to this day.
Since 2018, Morgan has released four EP's (including her latest project, "Spotlight") and ten singles, combining for over 30,000 streams on Spotify, and 80,000 streams on Audiomack. Her 2019 EP, "I've Seen Enough, I Know What It Does", Equipped with a variety of sounds, she draws inspiration from a wide range of artists such as The Weeknd, 070 Shake, and JMSN. Her signature falsetto and soft tones have trademarked her sound that is becoming instantly recognizable amongst fans. Morgan began to pick up momentum through live performances, earning sets at venues such as Subterranean in Chicago. Audience members described her sets as "captivating", and "a genuine experience". She took those descriptors, and began to cultivate her own "captivating"sound. Whether she's backed by a wall of production, or just her acoustic guitar, Morgan aims to be a force in her own lane.
Throughout 2020, Morgan has been working on elevating her sound even further. Since teaming up with Chicago producer and engineer, Jamie Sumner, she has collaborated with countless artists across the Midwest. Her latest project "Spotlight"(March 2021), is a statement to her listeners, recording her own journey and battles in a transparent, and cinematic soundscape.