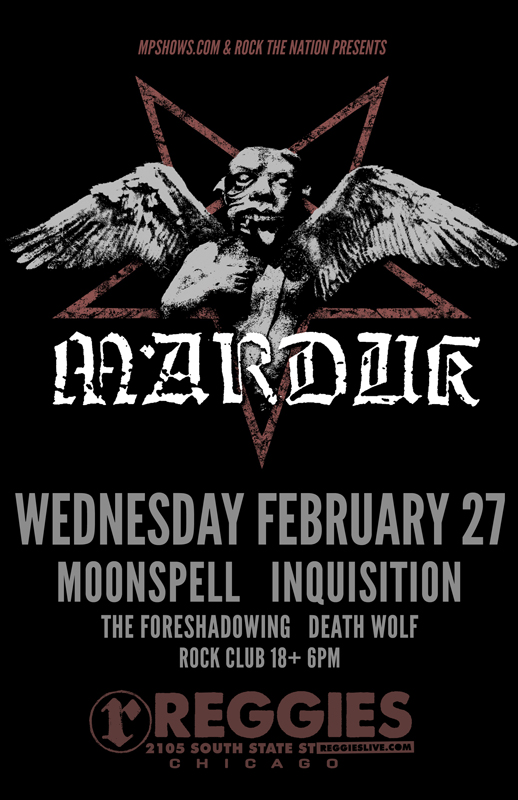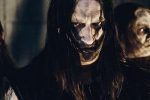 MARDUK
An unswerving commitment to blasphemy and extremity combined with a relentless touring schedule and a steady stream of recordings has helped establish Sweden's Marduk as one of the better-known bands on the Scandinavian black metal scene. They began as more of a standard death metal band with a black metal influence, but have come to be known for their style of extreme black metal, which tends to focus on themes of warfare and anti-Christian sentiment and is characterized by relentlessly fast drumming and blurred walls of guitar.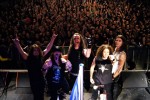 MOONSPELL
Moonspell returns to the scene with what might be the most important album ever to be released by this legendary Portuguese metal band. With a renewed focus, they have risen to a new level so as to reclaim their throne as the leading European dark metal band. "Alpha Noir" is a nine-track outburst that shows us a much more incendiary band than in the past. With an avalanche of memorable guitar work, deeply rooted in the thrash metal of legends, Moonspell perfectly combines it with their own brand of Southern black metal, which they have been crafting since their groundbreaking debut offering: "Wolfheart". The special edition will also include a second CD, "Alpha Noir's" remarkable counterpart "Omega White". It follows a more atmospheric path, delivering epic and catchy songs in the vein of gothic rock icons, such as Sisters of Mercy and Type o Negative.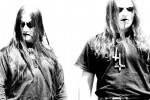 INQUISITION
The band Inquisition was formed in 1988 in Cali, Colombia by Dagon. The band started as a thrash metal act, and in 1994 evolved into raw black metal.
In 1996, Dagon left Colombia and moved back to the United States to continue Inquisition and search for a new drummer. That same year Dagon met Incubus, who joined the band on drums and the creation of their debut full length album began. This line-up has remained stable for more than fifteen years and is now seen as the classic Inquisition line-up.
INQUISITION style of black metal involves slow, deep and dark riffing combined with sudden tempo changes to faster sections based around blast beats and high-speed riffing; at times adding melodic solos. The classic Inquisition sound incorporates a combination of early era thrash metal-influenced riffing with darker and more chaotic black metal, primarily involving fast, tremolo picked minor-key guitar riffs, thus creating the trademark "Inquisition sound".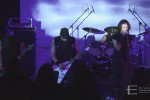 THE FORESHADOWING
There's only a two years gap from the release of the dark masterpiece "Oionos" and yet the Italian gothic-doom band THE FORESHADOWING is ready to get back in the store.
In the last two years the band had an intense live activity hardening its live performance and becoming one of the most appreciated live act of the modern doom scene. After shredding the crowd at worldwide famous festivals like Summer Breeze Open Air and Wave Gothic Treffen, travelling around Europe on tour and sharing the stage with the most important acts of gothic-doom scene (Katatonia, October's Tide, My Dying Bride, Saturnus, Isole…) the band is finally back to give birth to the awaited third chapter of its gloomy apocalyptic saga.
Title and tracklist are still secret but interesting details will be revealed soon through their official Facebook page, together with clips directly from the studios. Mixing and Mastering will take place at the mighty Unisound Studios in Sweden by the living legend Dan Swanö (Asphyx, Dark Funeral, Katatonia, Edge of Sanity, November's Doom, Opeth, Pain just to name a few) while artwork will be committed to Travis Smith (Opeth, Anathema, Katatonia, Nevermore, Amorphis and many others).
"This is gonna be, without any reasonable doubt, absolutely metal" states guitarist Alessandro Pace "we worked hard to step forward and gaining our melodic side, while at the same time we wrote the most groundbreaking rhythms we ever played. This is gonna be an album with no compromises, it's gonna be a blast!".
Recording sessions have been held at well-known Outer Sound Studios in Rome with the old time friend Giuseppe Orlando (Novembre, Klimt 1918, Stormlord, Necrodeath etc.) and mixing is about to be finished.
The album will be released worldwide by Cyclone-Empire in spring 2012, stay tuned for upcoming news and the band studio diary.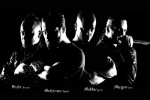 DEATH WOLF
Formed in the year 2000 under the monicker Devils Whorehouse by Morgan from Marduk, and after releasing the highly acclaimed albums "Revelation Unorthodox" and "Blood & Ashes" as well as the eps, "Howling" and "Werewolf", the band felt its time to change name as the music and philosophy behind the orchestra has outgrown its name. The end of one world and the birth of another. The band now continues under the name Death Wolf symbolising the strenght,dedication and will shown in its creations. The band just finished the recording of its upcoming album filled with Northern end themes and death hymns. Cold steel over the worlds throat. More info regarding its imminent release will follow shortly.. The band can also proudly announce its first live apperance which will be taking place in June at the Wave-Gotik Treffen in Leipzig, Germany on the 12th of June. Tracklist an info regarding release date will be announced very soon. Stay tuned!!!
VIP Tickets
$50 Includes poster, early entry, and meet and greet with both Moonspell & Marduk