From LOUDNESS: Notice of Postponement of US Tour
Regarding the US tour planned for the end of this month, but in the Corona area
Due to circumstances surrounding US foreign entry conditions, it has been postponed again.
I am so sorry to all the fans who have been waiting for 3 years.
Our thoughts alone can be unshakable, and we can re-separate after the situation is resolved, I would definitely love to return to the states.
LOUDNESS Members & Staff
All previously purchased tickets will be refunded at original point of purchase.
Tickets purchased online will be refunded through Ticketweb back to original card used for the purchase.
Tickets purchased in person at the box office must be refunded in person, the box office is located on the second floor, open every day from 11am to midnight.
Questions? email us at info@reggieslive.com or call the club.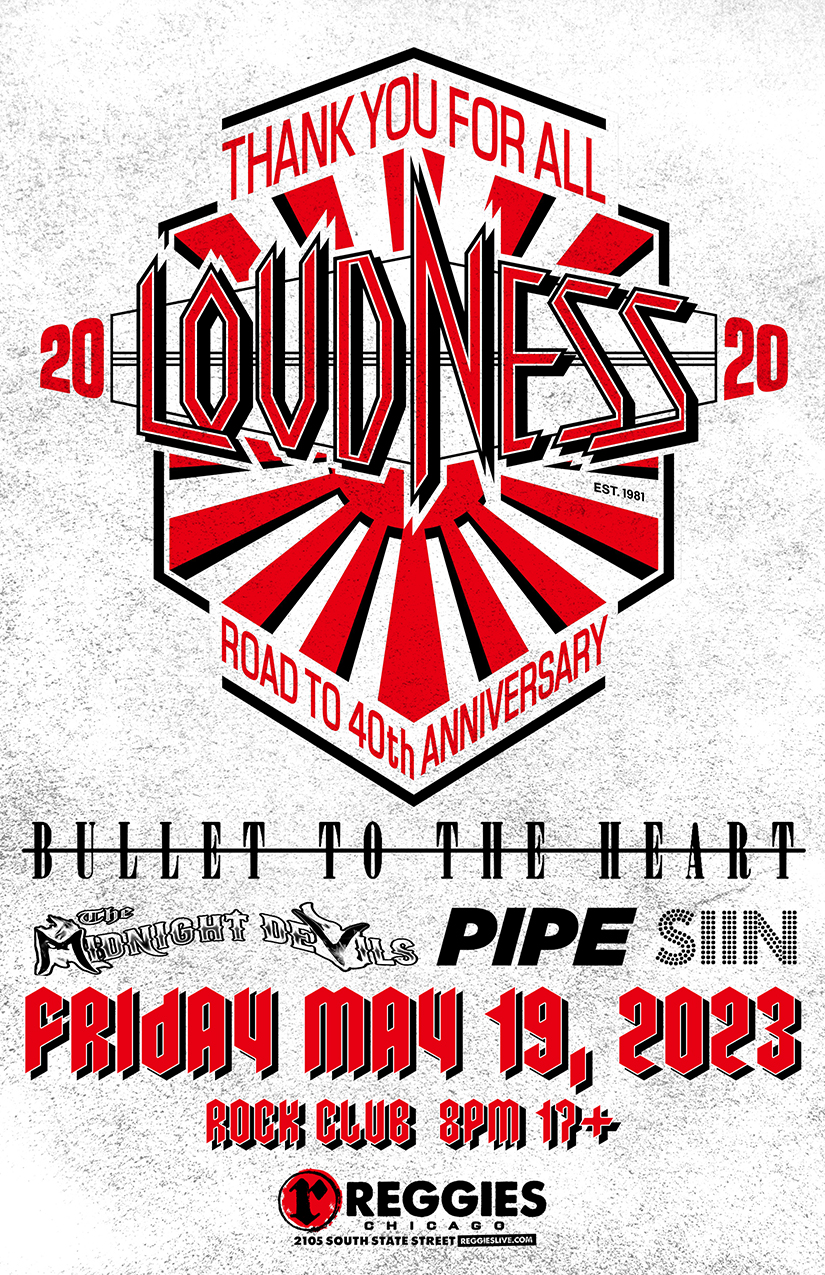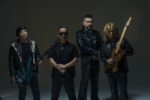 LOUDNESS
Akira Takasaki / Guitar
Minoru Niihara / Vocal
Masayoshi Yamashita / Bass
Masayuki Suzuki / Drums
By the time they were introduced to the West by 1985's Thunder in the East album, Japan's Loudness had arguably already hit their peak. Their previous effort, Disillusion, was the fourth chart-topping release in their homeland, not to mention a critical triumph among members of the European press. But when faced with a contingency plan to conquer America, Loudness were gradually forced to alter their sound by unsuitable producers and clueless record company hacks, never coming close to translating their far-East success into Western stardom.
Guitarist Akira Takasaki and drummer Munetaka Higuchi first played together during the mid-'70s in a mainstream rock band called Lazy. Unhappy with the band's direction, the duo split and decided to follow in the footsteps of Bow Wow (the first ever Japanese heavy metal band), forming Loudness with vocalist Minoru Niihara and bass player Masayoshi Yamashita. Combining a classic metal approach with
Takasaki's Eddie Van Halen-inspired guitar heroics, the band immediately scored local success with their first three albums, which were sung entirely in Japanese. But it wasn't until the release of their first live album, Live-Loud-Alive, and fourth studio effort Disillusion that the group attracted any significant attention outside their homeland, eventually issuing an English version of Disillusion.
Lightning Strikes Atlantic Records soon came calling and the band's international career began in earnest with 1985's Thunder in the East, which sold quite well in the U.S. for its novelty value, giving the band false hopes about their acceptance by Western metal audiences. Subsequent efforts, Lightning Strikes and Hurricane Eyes, were "made to order" records geared for the American market, and saw the band slowly drifting away from their roots towards a more commercial, pop-metal sound. All to no avail, and after recording 1988's independently-released Jealousy, the classic lineup's glory years came to an end with the firing of Niihara and the arrival of American-born singer Mike Vescera for 1989's Soldier of Fortune. 1991's disappointing On the Prowl saw them resort to re-recording watered down versions of some of their Japan-only material and would be the last to feature Vescera, who briefly joined the temperamental Yngwie J. Malmsteen's band.
Ghetto Machine Yamada Masaki, from rival Japanese metal band EZO, was brought in for Loudness' 1992 self-titled effort, 1994's Heavy Metal Hippies, and 1997's Ghetto Machine. The latter saw the departure of the band's long-time rhythm section being replaced by bassist Shibata Naoto and drummer Homma Hirotsugu. This lineup recorded two more albums, 1998's Dragon and 1999's Engine, after which it has been rumored that Takasaki welcomed back the original members for an as yet unconfirmed reunion.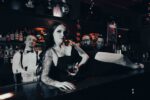 BULLET TO THE HEART
Bullet To The Heart was formed in 2017 out of the ashes of a previous project that went through various trails. Draven DC on drums and Audrey Behun on lead vocals found the perfect set to join their ever growing cause. Brian Benischek was discovered playing out by himself with nothing but a guitar. At that time, he was searching for others who shared his passion for music. Tom Monroe, reunited with his friend Brain and he joined the band to add the essential other half of the rhythm section on the bass.
Adding to the band's original songs, Brian and Tom put their artistic spin on Audrey and Draven's previously written music and the single "Locked Inside" was released. This single was featured on numerous radio outlets including 95 Will Rock, 101.1 WKQX, Asgard Radio, and Q Rock 100.7. Bullet To The Heart's debut show sold out downstairs Subterranean in Chicago. Gaining traction fast the band released a brand new logo via the artist Paul Johnsen. Subsequently, after playing a few shows around the Chicagoland area, their fans were asking where they could access more music. Eager to please their fans and crank out some more tunes, they took to the studio to write their first album.
They began recording their debut album "Bulletproof". The album was to show you move from the old into the new, a new beginning, and to be 10 feet tall and bulletproof.
After much support and love from their fans, "The Bloodline" was born. This would come to be an exclusive group of fans that consist of people who share the same vision and want to help the band spread their message. BTTH embraces everyone and extends themselves to anyone who feels alone and needs a voice in the darkness.
Taking inspiration from "The Bloodline" and seeing their hardships firsthand, the band went back into the studio to create their 2018 release "Trials and Tribulations". T&T features songs about life's trails such as mental illness, drug addiction, loss, rage, and finding salvation. As a result, they released their single/title track "Trials And Tribulations". The band plans to spread their current message, awareness, and to give redemption to those we have lost to life's trails and purpose to those that need it.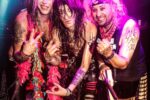 THE MIDNIGHT DEVILS
The Midnight Devils are a national touring high energy glam slam boogie woogie rock n roll band out of Omaha, NE and Chicago, IL. Featuring Sam Spade on bass and vocals, Sniper on guitar, and Jimmy Mess on the drums. Throwing all caution to the wind this power-trio is a bad ass-lipstick smeared party rock n roll band that takes glam to the next level. Having done hundreds of shows from coast to coast in support of their debut album Something Bigger, The Midnight Devils' mix of rock n roll, sexuality, and depravity are the perfect combination. The Midnight Devils have also toured as the direct support act for UK rock legends The Quireboys in early 2020.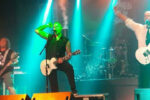 PIPE
Pipe hails from the south side of Chicago and you can hear it in their tough no nonsense hard rock sound. Stephen Favarato (vocals/guitar) responded to a Craigslist ad from Frank Damiano (lead guitar) as he was in search of a muse to ink some songs. Two days and a few emails later they had Two songs finished….ahh the wonders of the internet. They met the next day and found themselves onstage doing an open mic night and laying down some Zep, Alice in Chains thus welding the bond. Their first album entitled "Shovel mouth" was finished in 2008 and brought a modern hard rock/metal sound that is a grinding churn of several influences. Several personnel changes later, Pipe found there cut to the bone core when they added former Well of Souls drummer Paul Brodlo and local Chicago bassist John Sterba . The new sound went back to their true love and style combining all the influences they grew up with. Hard rock, a slather or blues and at times hint of country and western rounds out the knock out punch of Pipe's sophomore offering "Hit This". Released in 2014 Hit This was recorded in Chicago but then brought to New York and the doorstep of Sonic Stomp Studio and into the hands of Mike Orlando guitarist/recording engineer for Adrenaline Mob. His take on the music sent it to the next sonic level and brought out the real barn burning sound of Pipe. Their style and sound is most notable in their debut video "Play that Johnny Cash song", a true life tale of a wild party and heavy dose of the man in black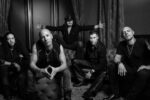 SIIN
Well known, well loved and a staple to the Midwest. Siin, like the proverbial Phoenix, has risen once again in a newer, fresher, bolder form. A vast array of influences has Siin described as having a modern throwback sound. Siin's stage presence is full of a contagious energy that pulls in their audience, never falling to entertain. The members of Siin, veterans to the music scene and from several well known bands, have joined to awaken a beast! Siin has created a fresh brand of hard rock that keeps fans clamoring for more. Their reputation, of high standards, professionalism, and neverending passion has made Siin a much sought after act.
Matt Elder lead vocals PJ Alvarez drums and vocals Bill Bhullar guitar Leon Tompkins bass Sam Bello guitar
Members have had the pleasure to support,
Bon Jovi Moonstock Festival with OZZY, Five Finger Death Punch, Papa Roach, Pop Evil, Black Stone Cherry, Failure Athem, All That Remains, Hell Yeah, Texas Hippie Coalition and More! Rockfest 2020/2021 Ace Frehley (KISS) Gene Simmons (KISS) Ted Nugent Tesla Queensryche Sabastian Bach Ratt Stryper Jackyl Bret Michaels Steel Panther Yngwie Malmsteen Marco Mendoza Viva La Rock Tour 2019 & Take it to the limit Tour 2020 The Dead Daisies John 5 Quiet Riot Winger Krokus Kings X Warrant George Lynch / Lynch Mob Slaughter Lynch Mob Kickin Valentina