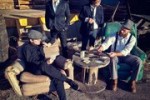 JUSTIN AND THE SALTY DOGS
Justin and the Salty Dogs began making music out of necessity. When Brownie McGhee (1915-1996) so astutely said years ago that "Blues is Truth," he exposed the roots of an ancient philosophical tradition that regards music as playing an important role in the welfare of a troubled mind. The ancient Roman philosopher Seneca (ca. 4 BCE-65 CE), for instance, speaks like a bluesman when he says, "Let the mind be soothed by the reading of poetry and occupied by the tales of history; it should be treated with sensitivity and finesse. Pythagoras used to calm his worried mind with the lyre; and who does not know that the cornet and trumpet act as stimulants to the mind, just as certain songs provide it therapeutic relief" (De Ira 3.9). The songs by Justin and the Salty Dogs, initially self-prescribed medicines, have precisely this aim. The "physicians" with whom they have consulted are numerous, but a few are especially worthy of mention: Mississippi John Hurt (1893-1966); Jimmie Rodgers (1897-1933); Sonny Terry (1911-1986); Woody Guthrie (1912-1967); and Muddy Waters (1913-1983). They tip their hats to these sage musicians and others like them, in all their complexity and problems, for pointing the way.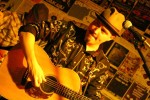 RYAN DILLAHA AND THE MIRACLE MEN
Born & bred Downriver, singer/songwriter Ryan Dillaha is truly a product of Detroit. Educated at Wayne State, he worked at Rouge Steel while working on his PhD in American Literature. Growing up he was surrounded by Motown and the classic country music his father brought with him as he made his way up the "Hillbilly Highway" from Tennessee to Detroit for work. These influences are unmistakable in Dillaha's heartfelt self-released, "Love Alone". As the cover promises…"solid gold heartbreaking hits".