Free Sidewalk Jazz Show 5-7pm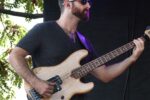 JON NADEL TRIO
Since 2015, Jon Nadel has been the sole bassist of Marbin (a nationally touring Progressive Jazz Fusion band). Jon released his debut album "Urraca" in 2019 and leads a Contemporary Jazz trio.
He is accompanied by:
Steve Nordin, the drummer of Terrapin Flyer and The Mudmen. Chicago's premier Grateful Dead and Pink Floyd tributes.
Isabella Isherwood, a rising start in the jazz piano world. Isabella has been featured twice as a bandleader for the Chicago Jazz Festival. She is a proud alum of the CYSO Jazz Orchestra and is an active member of the Jazz Institute of Chicago's Women's Jazz Leadership Initiative.