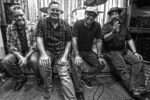 JOE RIAN THE A.M. DRINKERS
Joe Rian (pronounced Ryan) was adopted as an infant and raised in Rock Falls Illinois.
He flunked out of college, moved out of the Midwest and scraped by like most 20 year olds working multiple -minimum wage jobs. The main gig was sweating away at gold and silver refinery on the west side of Phoenix AZ. Other jobs included telemarketing, working concrete, putting up and then chasing hot air balloons, selling buying club memberships, moving appliances and a very short stint collecting outstanding debts for characters you might find on a once popular TV series.
This was 1989 Arizona. That's when he won a American Stratocaster on a radio contest signed by Jeff Beck and Stevie Ray Vaughan. Then, pure chance found him at the last ever SRV concert. Weirder yet is that he ended up working the door at Buddy Guy's Legends.
Summers would find him busking the streets of Chicago…where the real action was …on the city streets. Mid 90's blues revival indeed was certainly a thing Heavy Blues… Street Blues really. That was never the only thing.
Joe is certainly not a Bluesman, but a songwriter that likes to stir the sounds of Roots, Country and Folk styles into a nice pot of soup. As one listener called it…"Really Good Music….Saturday Night Music".
ERNIE CLARK & THE MAGNIFICENT BASTARDS
Ernie Clark & the Magnificent Bastards began as an idea during a rock 'n' roll session atLeelanau Sands Casino in January, 2017. That's when Ernie looked at his wife and said, "I'd liketo give it one more shot." Having played in bands since he was 16, to that point Ernie Clarkhadn't played more than an open mic or a song at church in almost a decade. Two weeks later,after much contemplation, he placed an ad on Craigslist and the adventure began. Ernie met witha couple of drummers and a couple of bass players telling them about his idea to mesh countrywith punk and gospel and rockabilly and blues. Some scoffed but some got it. A core three-piecerhythm section came together by the end of 2017 and as a group they auditioned and tried to findthe right guitar player. The line-up of Ernie Clark (vox/rhythm guitar), Brett Booher (bass),Derek Tiller (lead guitar) and Billy Hirt (drums) released their first independent record, FamilyAlbum, was released January 17, 2020.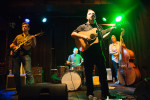 DIRTY GREEN
As if from the soil itself, DIRTY GREEN emerged in 2005 and has continued to cultivate a hybrid of authentic, yet truly original music planted deep down in the ground of early american roots. DIRTY GREEN's namesake comes from a song written by singer Aaron Mitchell which takes some digs on the lopsided and fictional attributes of the almighty dollar bill. Influenced by, but not limited to: american folk, Americana, bluegrass, blues, punk and early country, DIRTY GREEN offers a wide array of original ballads, blue-collar rants, pseudo-rockabilly romps, bar room jingles and a hearty batch of heart-wailing folk songs.