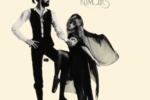 FLEETWOOD MAC "RUMOURS"
(performed by The Marshall Fleetwood Band)
Rumours is the eleventh studio album by British-American rock band Fleetwood Mac, released on 4 February 1977 by Warner Bros. Records. Largely recorded in California in 1976, it was produced by the band with Ken Caillat and Richard Dashut. The band wanted to expand on the commercial success of their eponymous 1975 album, but struggled with relationship breakups before recording started. The Rumours studio sessions were marked by hedonism and strife among band members that shaped the album's lyrics.
FOREIGNER "FOREIGNER RECORDS"
(performed by FoCo)
Records is a compilation album by the British-American rock band Foreigner, released on November 29, 1982 to span the band's first four albums through 1981. Along with their second album, Double Vision, this release is the group's best-selling record.