All Bottom Lounge tickets will be honored.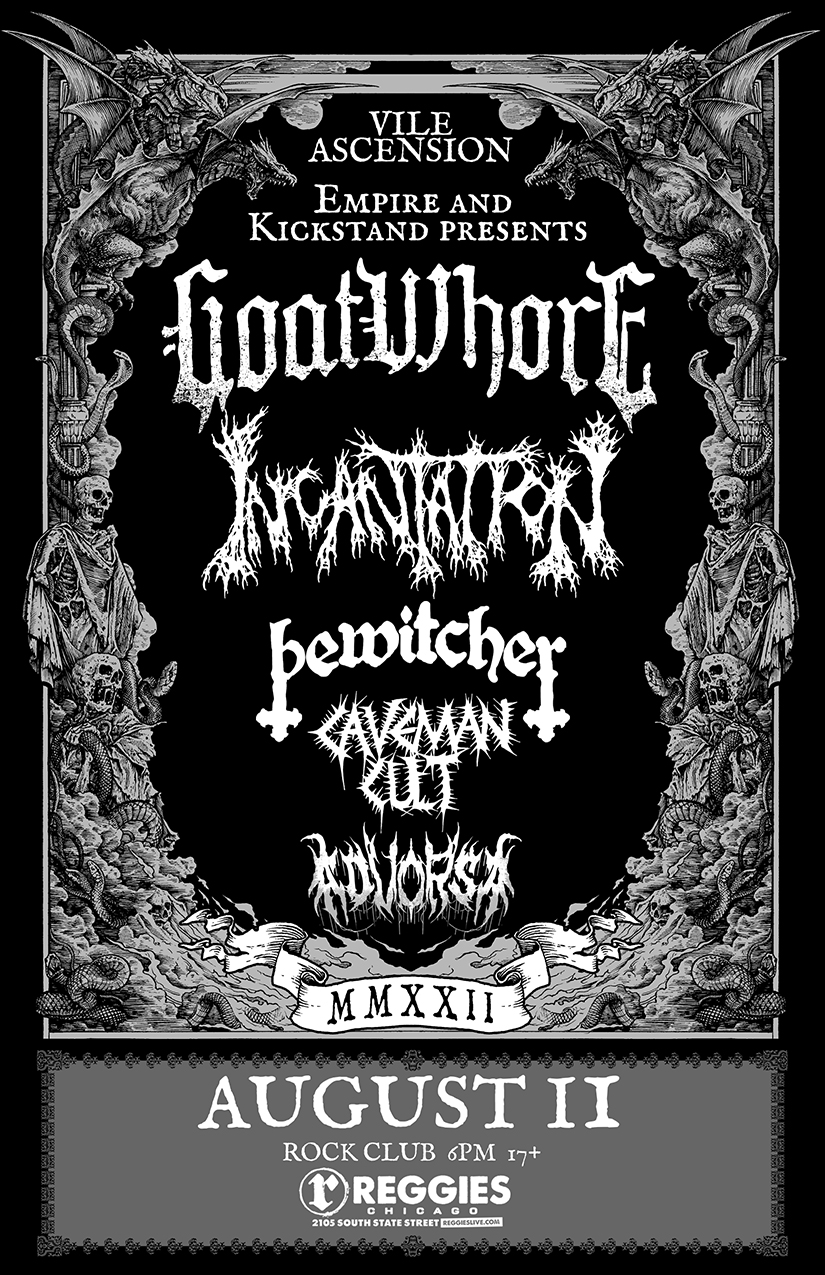 GOATWHORE
In an oversaturated metal landscape where sub-genres spawn sub-sub-genres and the very definition of "metal" seems blurred by cross-pollinating madness, sacred are the bands who stay true to their roots. Goatwhore spew the sort of sinister, fist-clenching, speaker-searing sound that made metal so forbiddingly enticing in the first place.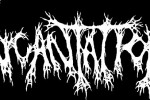 INCANTATION
The band profiled in this bio is a ferocious, mercilessly brutal outfit that is known for death metal, black metal, and grindcore. The words "pop" and "mainstream" are not in the vocabulary of this Incantation, which has never come even remotely close to receiving acceptance in the mainstream pop market. Nonetheless, Incantation has enjoyed a small underground cult following since the early '90s, and the band's followers (both American and European) love the fact that Incantation's extreme metal is so far from the mainstream. Incantation has all of the ingredients that death metal and grindcore enthusiasts crave: insanely fast tempos, an obsession with Satanism and the Occult, and choked, grunting, evil-sounding vocals; in other words, everything that is guaranteed to intimidate mainstream audiences and frighten them away. However, metalheads have been quick to point out that Incantation isn't the sort of band that has played at an ultra-fast tempo 100-percent of the time. While some death metal/black metal and grindcore bands never slow things down, Incantation has been willing to change tempos a lot. But whether the Pennsylvanians are playing fast, slow or somewhere in between, their work never ceases to be blistering — Incantation is about as subtle as a sledgehammer.
Onward to GolgothaIncantation was founded by guitarist John McEntee in Western Pennsylvania in 1990; that year, McEntee assembled the band's original lineup and hired Will Rahmer (founder of the death metal unit Mortician) as lead vocalist. Rahmer was featured on Incantation's debut EP, Entrapment of Evil, which was released on the tiny Seraphic Decay label. It wasn't long before Rahmer was replaced by Craig Pillard, who stayed with the band for several years. After signing with Relapse in 1991, Incantation recorded their second EP, Deliverance of Horrific Prophecies, before providing their first full-length album, Onward to Golgotha (which employed Pillard on vocals and Jim "Eno" Roe on drums) in 1992. Incantation's subsequent Relapse albums included Mortal Throne of Nazarene in 1994, Upon the Throne of Apocalypse in 1996, Forsaken Mourning of Angelic Anguish in 1997, and Diabolical Conquest in 1998. After 2000's Infernal Storm, Incantation left Relapse and signed with Necropolis in 2001; their first Necropolis album, Blasphemy, was recorded in 2001 and released in 2002.
Over the years, Incantation has had more than their share of personnel changes. Like a lot of death metal bands, Incantation can be a revolving door. But McEntee (who is the only remaining member of Incantation's original 1990 lineup) has always held down the fort as the band's leader, guitarist, and main lyricist. Former members include, among others, Rahmer, Roe, Pillard, singer/guitarist/bassist Daniel Corchado, bassist Dan Kamp, and drummer Dave Culross (who is also a graduate of Malevolent Creation and Suffocation). Incantation celebrated their 12th anniversary in 2002, when the band's lineup included McEntee, vocalist Mike Saez, drummer Kyle Severn, and bassist Joe Lombard.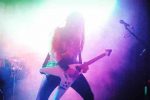 BEWITCHER
…And so it came to pass…

In the year of Thirteen of Satan's third millennium, a new force rises to defend the ways of old. Bewitcher is the ancient black flame of magic, mayhem, freedom & liberation, burning in blatant opposition to the laughable norms of this modern age. Instead, they look to that bygone era, before it's pollution by imitators of a lesser intention, when heavy metal in all it's glory truly represented the tenets it was founded upon.

May your children be corrupted, may your foundations
be shaken, may your mundane existences be forever altered, for this spell cannot be broken. Fall, obey and beware the curse of the Bewitcher!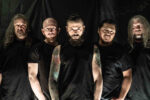 ADVORSA
Advorsa is an American death metal band from Chicago, Illinois, formed in 2013. The band currently consists of bassist James Lenten, guitarist Noah Marshall, guitarist David Krouwer, drummer Hector Huizar and vocalist Angelo Hakey.