Starting January 3, anyone entering the concert will be required to show proof of full vaccination. Final dose of vaccination must be received no less than 14 days prior to the event. We will accept a hard copy of your vaccination card, a printed photocopy or a digital image on your phone, and must match your Government-issued ID. Masks are currently required to be worn by everyone inside the venue in accordance with current City of Chicago guidelines.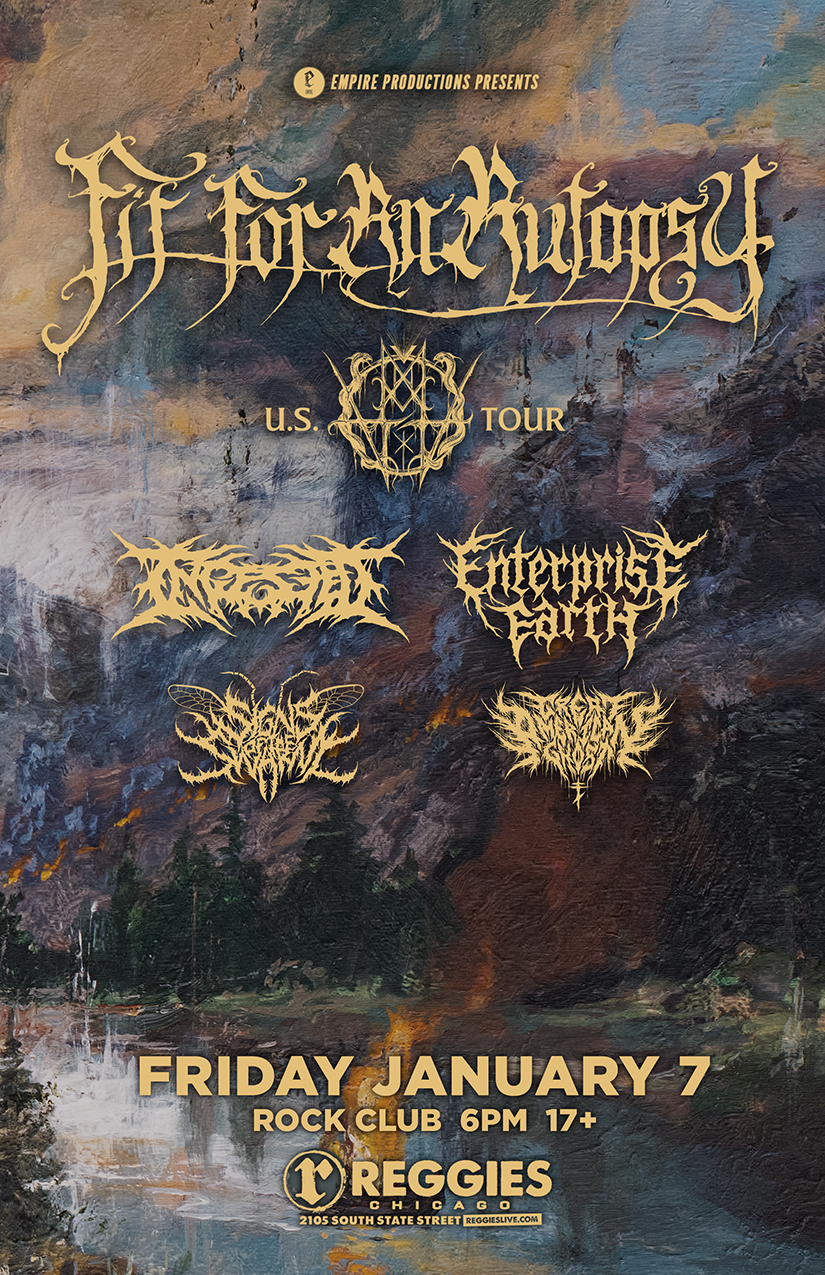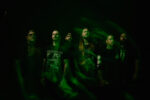 FIT FOR AN AUTOPSY
Corrupt politicians, manipulative mainstream media, government surveillance, mass shootings, clean water shortages, religious warfare, aggressive agribusiness, climate change, GMOs and a whole host of mind-numbing problems certainly make it feel like humankind is "going to hell in a hand basket," as they say. There may be nothing that can be done about it at this point. But at least we have a killer soundtrack.
Fit For An Autopsy's Hellbound is the perfect score with which to watch the flames rise. Punishing, unrelenting and alternately both heavy and dissonant, the New Jersey metal band's first album for Good Fight/eOne conjures visions of Nero vigorously attacking his fiddle, even as Rome was engulfed in fire all around him. Esteemed English actor Michael Caine delivers perhaps the best line in Christopher Nolan's "The Dark Knight" trilogy: "Some men just want to watch the world burn."
Death metal often chooses to deal in devils, demons and horror-movie inspired gore. "Deathcore" detours into broken relationships and introspective issues, much like its scene cousins in Metalcore and alt-rock. Fit For An Autopsy blaze their own path, opting to address the dirty, gritty and grimy reality of modern day life. There's no fantasy, no plaintive odes to lost love. This music is hell. These songs are Hellbound.
Scene queens, careerist cartoons and poseur-iffic hacks best step aside when confronted with the self-assured, art-for-art's-sake vibe of Fit For An Autopsy. As MetalSucks observed early on: "The band's brutal, glowering take on [deathcore] reminded [us] of the squandered potential of the genre. Hardcore grooves and swagger, when incorporated correctly, blend quite well with death metal."
On Hellbound, Fit For An Autopsy expand upon their commanding approach to an often maligned subgenre by synthesizing the rhythmic experimentalism of Gojira, the aggressive post-Noisecore of Converge, the esoteric and meditative tribalism of Isis, a virulent dose of the New Wave Of Swedish Death Metal (At The Gates, Dark Tranquility, early In Flames), the legendary progenitors of Floridian death metal (Death, Morbid Angel, Cannibal Corpse, Obituary) and the "deathcore" acts who offer actual proficiency in the genre (Suicide Silence, All Shall Perish, Whitechapel).
Each nuanced building block is meticulously assembled together to form a near-perfect modern metal masterpiece, all with the confident vibe of a group of people making the music they want to make for its own sake, trends and "hype" be damned.
There was justifiable reason to be excited about Fit For An Autopsy from the start. The rich pedigree of its core members foreshadowed the momentous music that was to come. Guitarist Will Putney is an accomplished metal producer, mixer, engineer and cowriter. Putney's fingerprints are all over currently relevant albums from Stray From The Path, Reign Supreme, Misery Signals, Vision of Disorder, Counterparts, For Today, Like Moths To Flames, and more. Guitarist Patrick Sheridan is rightly well regarded for his work on the fretboard as well as with a tattoo machine. The rhythm section of bassist Shane Slade and Sick Drummer-approved Josean Orta is beyond formidable.
The earliest rumblings of Fit For An Autopsy emerged on a 2008 demo. The self-released Hell on Earth EP arrived the following year, eliciting interest from Guy Kozowyk, The Red Chord vocalist and Black Market Activities label honcho. Kozowyk released Fit For An Autopsy's devastating debut, The Process of Human Extermination, in 2011. Sputnik Music paid particular attention to Johnson's dominating presence. "The dude's a swamp creature," they wrote of his "absurd" (in a good way) delivery. "When you hear him scream, it's like, 'What the —- was that?' You realize whatever it is would probably eat you if you ran into it in the woods."
The group's seething contempt for modern society is rivaled only by the sonic bombardment dropped upon the unsuspecting all over Hellbound, a record that is equal parts challenging and engaging. It's an album designed to make people feel uncomfortable, while at the same time, counter-intuitively soothed by its catharsis. Criminals, junkies and the systems that fail them; deadbeat parents; poisoned food; BS celebrities and false idols; they've all led humanity here. Hellbound draws a line in the sand. It's a declaration that even it's all going down the proverbial drain likeminded individuals can take some solace in the expression of shared rage.
ENTERPRISE EARTH
A punishing technical deathcore outfit based out of Spokane, Washington, Enterprise Earth was founded in 2014 by ex-Infant Annihilator vocalist Dan Watson and e
x-Takeover guitarist BJ Sampson. Taking their name from a confluence of Illuminati and other conspiracy theories, the band issued their debut EP, XXIII, shortly after forming. They released their debut album Patient Ø in 2015. Which featured guest appearances from Oceano vocalist Adam Warren — the LP reached number five on Billboard's Heatseekers/Top New Artist Chart. Their latest album Embodiment was mixed and mastered by Buster Douglas Odeholm and came out in the Spring of 2017. Enterprise Earth has toured with Chelsea Grin, Whitechapel, Within The Ruins, Winds of Plague, Summer Slaughter 2016 and continue to make their mark in the metal/deathcore world.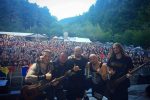 INGESTED
Mancunian slam crew INGESTED have built a reputation as one of the most savage death metal acts to come out of the UK for a long time. Punishing beat-downs, epic riffage, guttural vocals and blistering speed are just some of the weapons in Ingested's musical arsenal.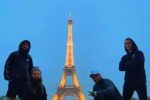 SIGNS OF THE SWARM
Signs of the Swarm is a five-piece death metal horde hailing from Pittsburgh, Pennsylvania. "With the release of their debut album Senseless Order earlier this year, they've already begun to gain national attention. The mood and ambience are consistent and the breakdowns and build up to them are flawless. Vocals are absolutely incredible." – Sputnik Music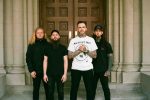 GREAT AMERICAN GHOST
Boston's harshest and most furious export, Great American Ghost, will release their self-titled manifesto in March 2013. This initial offering, poignant yet violent, angry yet intelligent, solidifies Great American Ghost as the bastard children of the Boston hardcore scene. Recorded and produced by Jay Mass (Defeater, HH, TF) Great American Ghost unleashes a sadistic explosion of anger and thrash.