Celebrate the tapping of local brewery Ale Syndicate "Crafting Beer for the City of Chicago" at Reggies. $5 Pints of Sunday Session. Keep the glass as a souvenir.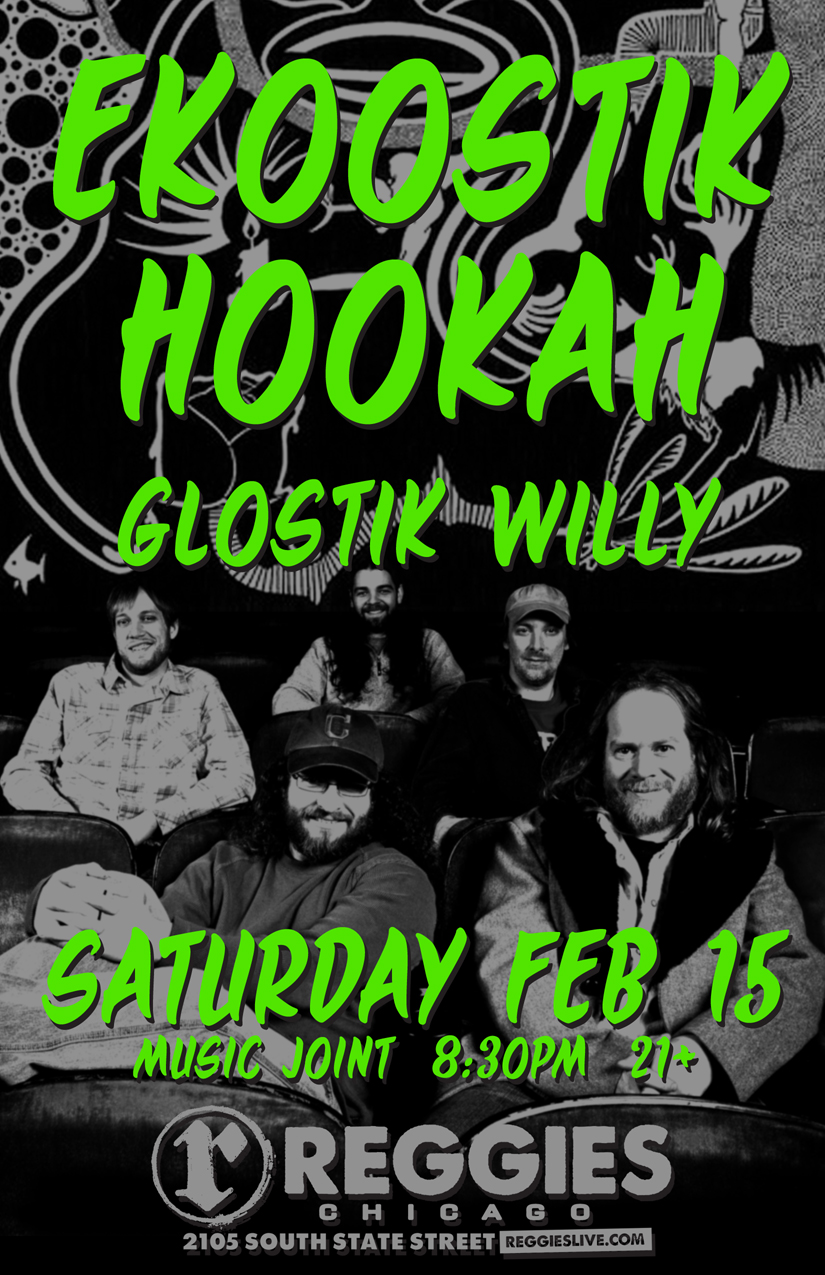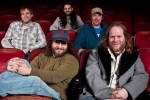 EKOOSTIK HOOKAH
One of the most original and energetic acts around today, ekoostik hookah is the nucleus of a family drawn to its lucid, improvisational treatment of psychedelic rock 'n' roll, blues, funk, jazz and bluegrass layered with rich harmonies. Born early in 1991 in a smoky basement bar, the band has been continually evolving, cultivating a sound that has perked the ears of contemporaries and attracted fans who travel miles to hear them play.
The Ohio-based band began jamming during weekly open-mic nights when vocalist/keyboardist Dave Katz, lead guitarist Steve Sweney, bassist Cliff Starbuck and guitarist/vocalist John Mullins had full-time gigs with popular bands. The ensemble quickly found a following and began this odyssey when a stranger who heard them at a party bankrolled a trip to the studio to record Under Full Sail. By the end of recording, band members had committed themselves full-time to ekoostik hookah. Drummer Eric Lanese joined in 1993. Since then, the band has undergone a few changes in personnel, including the departure of Starbuck and the addition of bassist Phil Risko and the departure of John Mullins and addition of guitarist/singer/songwriter Eric Sargent in 2010. ekoostik hookah has always independently handled every aspect of its growth.
ekoostik hookah has played in more than 30 states at venues including New York's Wetlands Preserve, Chicago's House of Blues, Cleveland's Nautica Stage, Atlanta's Variety Playhouse, Boulder's Fox Theater, Columbus' Promowest Pavilion, Cleveland's House of Blues, LA's Whiskey a Go-Go and San Francisco's Great American Music Hall. In 1997 hookah was invited to play at the Rock and Roll Hall of Fame. ekoostik hookah played its first international shows in June 1999 in Negril, Jamaica. Since then the band has traveled to the Netherlands in 2003 and back to Jamaica almost bi-annually, bringing their fans along each time.
Though intense live energy fuels this band, hookah fans have snatched up more than 100,000 copies of its eight releases: Under Full Sail (1991), Dubbahbuddah (1994), an untitled, two-disc live set (1996), Where the Fields Grow Green (1998), Hookahville Spring '98 (1998), Sharp in the Flats (1999), Seahorse (2001) and Ohio Grown (2002).
Hookahville, the band's home-thrown festival featuring two nights of music and camping in Ohio's green hills, has been called by fans and critics the best music festival in the Midwest. The biannual happening began in 1994 as a camp-out in Dave Katz and band manager Jeff Spencer's backyard. Growing steadily, it has since been held at different venues on Memorial Day and Labor Day weekends. The attendance for Hookahville Spring '00 exceeded 15,000. Hookahville allows the band to create its ideal "no hassles or bad attitudes" playing environment and share it with many fine live acts. Ratdog, David Crosby, Arlo Guthrie, David Grisman, Dickey Betts, Jazz Mandolin Project, The David Nelson Band, Willie Nelson, The Wailers, P-Funk, Robert Randolph, Little Feat, Ralph Stanley, Ricky Skaggs, Blues Traveler, Yonder Mountain String Band, Leftover Salmon and many others have played on the Hookahville stage.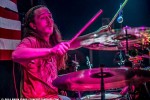 GLOSTIK WILLY
Glostik Willy is a very unique and diverse band formed in early 2008, and since then has grown to be a driving force in today's jam scene with over 500 performances in more than ten states and counting. The band has hosted 5 music festivals (May Daze, Stik Nite, Twig Nite) and performed at over 35 festivals. Glostik Willy brings an energy like no other during live performances that gets crowds moving and grooving all night long. Early in 2010 GW began making a statement in today's festival scene by "stage rage" which means going to festivals without being billed, building a stage, and playing until the sun comes up for anyone still around to enjoy it. Their first album Gonzology, released in 2010 featuring songs such as Better Things, Bright Side, Gonzo Tree, Highs & Lows, and My Brudda. Currently the band is working on a new album that will feature the bands most recent musical workings while releasing a series of live albums. It will release sometime in 2014. Glostik Willy continues to thrive on the road spreading their love for music to anyone with an open ear. If this group of in your face progressive/funk/jam addicts happen to stop by a city near you, be sure not to miss this amazing musical spectacle that the world knows as Glostik Willy.