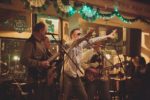 LANGDON KENNEDY WITH KENNEDY COMPOUND
Local rock band from Chicago's South Side.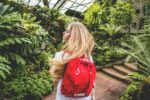 LEAH JEAN
I am starting to encounter more situations in which I am asked by industry professionals how to "describe my sound". I realize the importance of doing this; not solely from a professional standpoint, but for my own self-understanding, so that I might have a firmer grasp on what kind of music makes me come alive.
When creating music, I am honest, emotional, intimate, and sensory focused. Every instrument is saying something and every sound is clear and pointed. I am simply relieving the weight in my chest and it can come out as a complicated as a cryptic metaphor or as simple as a 3 word repeated hook. Sometimes my words can be laced with satire like Vonnegut's "so it goes" and sometimes they can be as fiery and desperate as a captured dragon. And if the work doesn't have a point or purpose, scrap it. I cannot create without intention. If I am angry because someone seemed to understand what it means to love deeply and then fled the responsibility, I'll write about that very thing. If I am happy because Mom told me something beautiful about living, I will write about that very thing. It's really a simple task and yet sometimes I am afraid of it because I don't want to create something silly that listeners can't relate to. But I think I am actually pretty relatable, just as you are, just as everyone on this planet is, no?
"Ooh, there's a little bit of me inside you, gathering what you lost. Ooh, there's a little bit of you in everyone, can never keep a secret." – Me In You by Kings of Convenience
Originally from Dayton, Ohio Leah Jean brings a fresh perspective onto the Chicago music scene. Her classical and jazz guitar training is an essential tool to her songwriting as her songs are decorated with unique riffs, solos and chords. Her jazzy, warm vocal style is reminiscent of singers like Norah Jones, Corinne Bailey Rae, and Gretchen Parlato. She incorporates elements of soul, pop, jazz, and rock in her music. Lyrically honest, dense, and heartfelt, Leah's haunting melodies and emotion-packed sound will leave the listener wanting more.
Leah has played at many venues in Chicago including The Metro, PRYSM Nightclub, TEDx Columbia College, Beat Kitchen, Martyrs, The Gala, Emporium, The Foxhole, Playground Theatre, Elbo Room, The Gwen Hotel, The Intercontinental Hotel, The Renaissance Hotel, and Lacuna Lofts. She is currently working on her second studio EP…