Dave Schmidt and The Smokin' J's will be performing an after bears game set.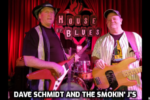 DAVE SCHMIDT AND THE SMOKIN' J'S
Dave Schmidt is a Chicago area musician playing Rock, and Rockin' Blues music all over the midwest. The original music features searing guitar, vocals, and passionate songs in these genres.