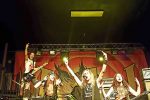 COMFORT SCARCITY
Formed in the fall of 2014 Comfort Scarcity is a up and coming hard rock band from Chicago IL. Not wasting any time the guys have already been hitting the area hard with live performances just about every other weekend,studio sessions,and a whole lot of writing. After surviving the trial stage as band and receiving a great response from audiences, it is clear that Comfort Scarcity means business. Expect many performances this Spring/Summer and the first recorded material from the band.
CONVOY
Convoy is a Chicago based band that plays music described as "Swamp Rock". The guys are notorious for hang out with the crowd before and after shows.
The band was formed in the fall of 2009. Convoy plays straight ahead rock and roll originals. Some of their influences are: Clutch, Corrosion of Conformity, Pantera, and Black Label Society.
The band is comprised of versatile seasoned musicians. Brian Corbin is the singer, rhythm guitarist, and song writer of Convoy's original music. Brian grew up in Kentucky and then moved to Chicago when he was a teen. His passion for southern rock is evident when he sings Convoy's originals. He's vocals are filled with raw emotion.
Mike Getz is the drummer. Mike is from the Chicago southside area. Mike has been playing drums for over 20 years. Mike is an energetic player and thrives on motivating the crowd. You'll hear is screams echoing off of the crowd.
Dan Thompson (Big D) is the bassist and backup singer. Big D is also from the Chicago southside area. He has been a playing professional for over 25 years. Big D is a versatile bass player that can run the gamut from Blues to Metal, and industrial music. Big D holds down the bottom end of the group.
Johnny Daniel is the lead guitarist and backup vocals. Johnny grew up on the northside of Chicago. Johnny is a multi-talented musician who plays guitar, bass, keyboard, and sings. He is a walking jukebox. He has an impressive musical history. He is also the producer of Convoy's albums. He's leads are memorizing.