The concert featuring Caligula's Horse is POSTPONED. New concert date is TBA. Previously purchased tickets will be honored at the door on teh new date. If you can no longer attend, refunds are available upon request at original point of purchase.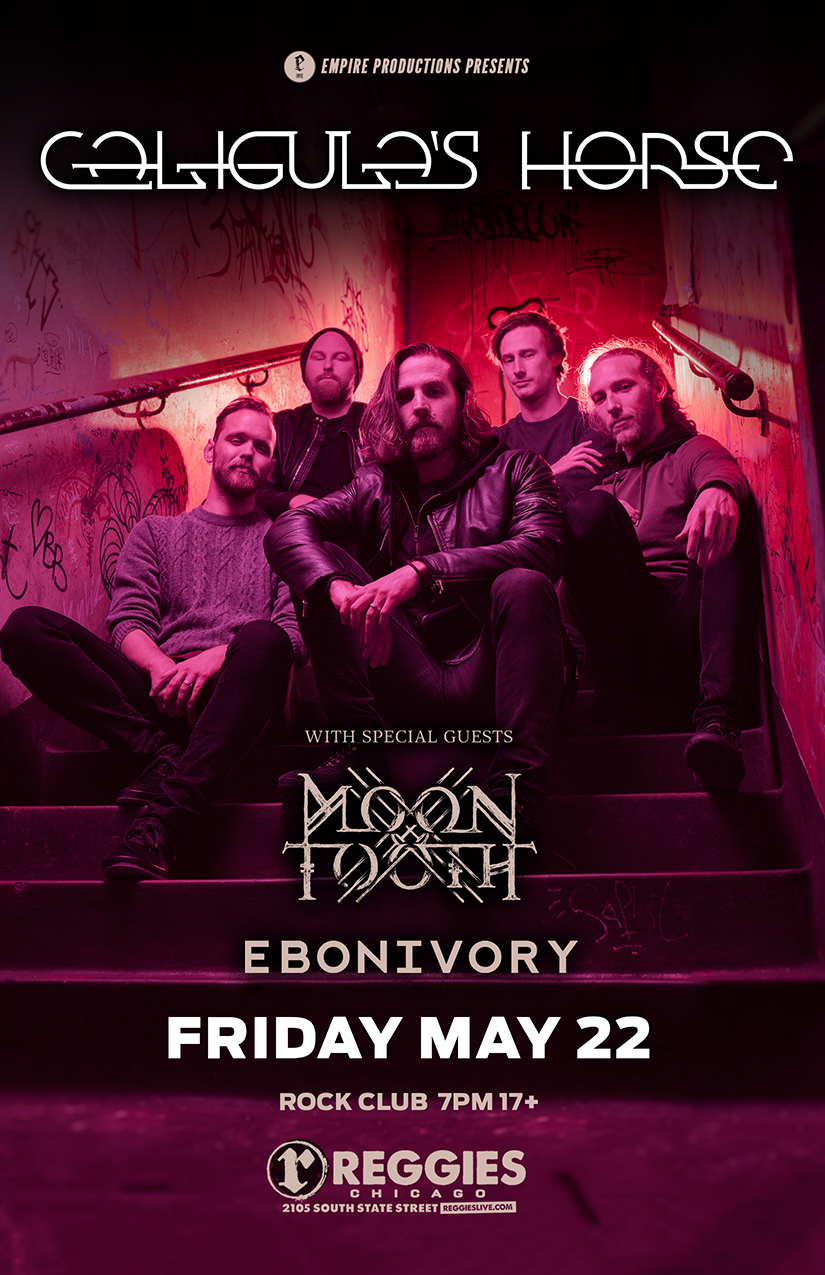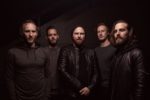 CALIGULA'S HORSE
Hailing from Brisbane, Australia, Caligula's Horse is a progressive alternative rock powerhouse. Their unique tapestry of progressive metal laced with raw rock power is at once fluid, monumental, and striking, offering a wide audience a broad palate of unforgettable moments and timeless music.
Now established as one of Australia's finest live acts and at the forefront of its progressive rock scene, with four well-loved albums under their belt, and a passionate and ever-growing worldwide fanbase, Caligula's Horse are broadening their horizons to the rest of the globe. 2019 will see the band reach the USA for the very first time for the prestigious ProgPower USA Festival, after headlining its European counterpart in 2018 to rave reviews. In the meantime, writing has begun for the fifth album for Caligula's Horse, which will become yet another enormous leap forward in their colourful signature style.
Formed in 2011 by Sam Vallen and Jim Grey, Caligula's Horse unleashed their vivid debut Moments from Ephemeral City in the same year. An evocative and powerful unveiling of the dynamic and cohesive songwriting partnership, "Moments" was a commanding charge into modern progressive music: energetic, eclectic, and poignant. Going from strength to strength, The Tide, The Thief & River's End was released in 2013, and was received with international acclaim. A dark, eloquently woven concept album, the narrative explores isolation, exodus, and the power of the human spirit. The release of "Rivers End" piloted the group to perform with such luminaries of the international progressive heavy landscape as Opeth, Mastodon, The Dillinger Escape Plan, Protest The Hero, The Ocean, Twelve Foot Ninja, and Ne Obliviscaris.
In 2015, after signing with the prestigious German record label Inside Out Music, and joining the roster of AMF Publishing in the UK, Caligula's Horse released their vibrant and emotional third album Bloom. Bloom reached the heights of #16 on the Australian Albums ARIA Chart, and #2 and #7 on the Australian iTunes Metal and Rock Charts respectively. Metal Injection (USA) proclaimed they "evoke a striking amount of greatness", while PROG Magazine (UK) stated "they are sounding ever more like they just need an arena to fill". Bloom saw the group embark on an extensive first tour of Europe alongside Shining (Norway), win the 2016 Queensland Music Heavy Award for their track 'Marigold', and complete five Australian tours; including national dates with Opeth, TesseracT, and sleepmakewaves, as well as headlining Melbourne's iconic Progfest Festival.
In June 2017, Caligula's Horse advanced to Europe for a second time; including support slots with Opeth, Anathema and Pain Of Salvation, UK headline shows and festival appearances at Midsummer Prog
Festival (Netherlands) and Be Prog! My Friend Festival (Spain). 2017 also saw the release of the band's most addictive and emotion work to date, In Contact, an album of deeply personal stories told over four chapters. In Contact is an incredible and ambitious work that has left audiences breathless across the globe. In Contact debuted at #50 on the ARIA Chart, bringing Caligula's Horse into the ARIA Top 50 for the first time. Caligula's Horse have toured solidly on the back of the success of In Contact, most notably their All Aussie Invasion headline tour of Europe in 2018 with Australia's Circles and ibuiltthesky.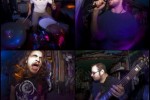 MOON TOOTH
"Gut-thumping prog and punk influenced metal that effortlessly blends the high-adrenaline and technical virtuosity of The Dillinger Escape Plan with the snarl of Mastodon." – Good Times Magazine
Moon Tooth is the new project of long-time friends and collaborators Nick Lee & Ray Marte. The band formed after the breakup of their previous endeavor, Exemption, which released several albums and made many friends touring the east coast during their seven year run from 2005 – 2012. Determined not to let that band's dissolve slow them down, they immediately began work on a bigger, bolder, more aggressive project that became known as Moon Tooth.
Moon Tooth finds the pair at a new plateau of focus and energy. They quickly found kinship and camaraderie with vocalist John Carbone (Rice Cultivation Society) and bassist Vin Romanelli (Give Up The Goods) who both a bring a great deal of personality to the band's sound. This band is eager to crush you with some devastating new jams. First EP entitled simply "FREAKS" was released 7/25/13 & recorded, mixed, and mastered by Ray Marte & Moon Tooth at Westfall Recording Co. in Farmingdale, NY from Winter – Summer 2013 but their live show is where the band truly delivers and with many new tunes already in the works for a full-length they will all assure you that you haven't heard anything yet.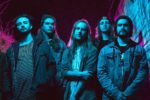 EBONIVORY
Hailing from Ballarat in rural Victoria, Australia, Ebonivory creates an engaging mosaic of raw emotion, complex rhythmic devices, and prismatic melody. Formed in 2014 by prodigious composer, multi-instrumentalist and lead vocalist Charlie Powlett, this world class 5-piece ensemble employs a unique distillation of alternative rock, progressive metal, post-hardcore and modern punk, delivering a breathtaking performance that unifies musicians, melomaniacs, and casual listeners alike.
From the first EP "Ebonivory I" (2014), to the full length progressive Australian cult-classic "The Only Constant" (2015), to their most recent EP "Ebonivory II" (2016), Ebonivory has built a reputation in the Australian progressive music scene as an act that consistently delivers music that grows in ambition and scale with each release.
Previously sharing the stage during their high-school years, Powlett is joined by long-time musical collaborators and childhood friends Jake Ewings (guitar), Louis Edwards (guitar, backing vocals), Connor McMillan (bass, backing vocals), and David Parkes (drums, percussion) to deliver a powerhouse of musicianship. Together, the band has embarked on a journey exploring the lyrical concepts of struggle via phenomenal musical grandeur and breadth, interspersed with unforgettable musical moments.
Ebonivory kicked off 2019 with a whirlwind performance at Australia's acclaimed PROGFEST festival, alongside international heavyweights The Ocean, Monuments, and Skyharbor. Soon after, they signed a management deal with Wild Thing Presents (Caligula's Horse), and record deal with Wild Thing Records (Circles). Early-mid 2019 saw the Persistence Australian Tour, which included supporting alt-rock powerhouse Dead Letter Circus. Throughout July & August 2019, Ebonivory traversed Australia with progressive rock juggernaut Circles for The Winter Tour, in support of their single "Patting the Black Dog" which landed coverage with PROG Magazine (UK), Triple J's "The Racket", Spotify's "Homegrown + Heavy" & "Prog Metal Essentials" Playlists, and Rage (ABC TV). Going from strength to strength, Ebonivory headed out on their first ever Australian headline tour in October 2019, in support of their single "Tales of Termina", which similarly garnered an overwhelmingly positive response worldwide.