Given the rise of the Delta variant,Bit Brigade and friends are requiring Proof of Vaccination or a Negative COVID-19 test for concert entry. 
Anyone entering the concert will be required to show proof of full vaccination or a negative COVID-19 test result for entry. Final dose of vaccination must be received no less than 14 days prior to the event. The COVID-19 test must be administered within 72 hours of the event. We will accept a hard copy of your vaccination card or negative test result, a printed photocopy or a digital image on your phone, and must match your Government-issued ID..
Bit Brigade performs rock covers of full NES game soundtracks as their gamer speed runs the game live on stage.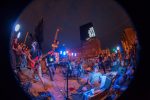 BIT BRIGADE
"When was the last time you attended a live music performance with a genuine element of risk involved? And no, going to a Gwar show with a white t-shirt on doesn't count. When Bit Brigade takes the stage your mind will frantically oscillate between "Oh! Agh!! Please don't die!!" and "YES! He's doing it!!" Combining the dread and daring of a live video game speed run with the spot-on technique of a live band covering the musical accompaniment to everything you're seeing on-screen in real time, Bit Brigade will have you swinging between the two mediums. From thrashing about to live renditions of your favorite stage themes, fingers yearning to the sky in a rock 'n roll parody of sea anemones seeming to silently plead, "Please, feed us more fretboard pyrotechnics!," to being locked in stock-still rapture as the infallible maestro of the d-pad, Noah McCarthy, takes on the final boss and risks his video game life under the threat of intense peer scorn (or the reward of night-long glory and a credits score). No matter the outcome, Bit Brigade must play on until the deed is done – which it always is – on the first (and last) try. Once Noah's NES buzzes on, there's no turning back." – Metalhead Mike of The Shizz, summer 2011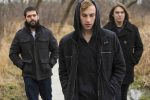 LOWER AUTOMATION
Three years following the release of their critically acclaimed second EP "Shoebox Companion", Chicago's noise/math-rock trio LOWER AUTOMATION now return with their first full-length album. Self-titled this new effort arrived July 12 via Zegema Beach Records and runs 10 tracks in length, with Lower Automation constantly pushing the envelope by offering an explosive, frenetic and inventive concoction of mathcore, noise-rock, metal and punk.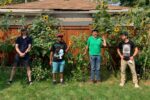 GRAPHICS
4-piece instrumental ensemble. stops 'n' starts. lots of changes. the word "angular."