Starting on January 3, 2022, in accordance with the Chicago Vaccine Requirement – Anyone entering the concert will be required to show proof of full vaccination. Final dose of vaccination must be received no less than 14 days prior to the event. We will accept a hard copy of your vaccination card, a printed photocopy or a digital image on your phone, and must match your Government-issued ID. Masks are currently required to be worn by everyone inside the venue in accordance with current City of Chicago guidelines.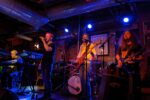 BIG TIME
(the Music of Peter Gabriel)
Big Time is a collective of veterans of the Chicago music scene having performed in tributes to Genesis, Jethro Tull, Porcupine Tree, and Kevin Gilbert as well as original recording artists Zip Tang, Nomadic Horizon, Sonus Umbra, Origin of Animal, and Big Picture. They are comprised of drummer Fred Faller, bassist Tom Heslin, keyboardist Mark Pieper, guitarist Rich Poston, keyboardist Paul Sladek, and vocalist Mike Sluis. Together they reproduce the music of Peter Gabriel including his hits and deep cuts from his solo discography.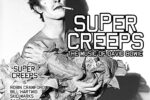 SUPER CREEPS
(tribute to David Bowie)
What happens when several of the finest musicians in Chicago are "Pandemic Bored"? They become a kick-ass David Bowie tribute band. SuperCreeps formed in the COVID Summer of 2020, when venues were closed and musicians had lots of time on their hands. Skid Marks, Robin Crawford, Bill Hartwig, Taylor Morse and Rich Poston were all quite aware that idle hands can become the devil's playthings. With the devil on the doorstep, this cadre of talented misfits channeled all their creative energy into a formidable Bowie tribute. SuperCreeps… Coming soon to a venue near you!